Modular I / O terminals for any requirements
The Koltmorgen AKT2G I / O terminals offer all the functions you need to connect digital and analog sensors and actuators, encoders, thermocouples, bus couplers and more to the EtherCAT® bus in real time. Adding these terminals to your system couldn't be easier with automatic recognition and automatic configuration.
Step in motion: The best applications for stepper motors

Do you need full servo control, or can a simple and economical stepper motor serve your application just as well? Watch this on-demand web session to learn how stepper motors work, their benefits, the best applications, and how to choose the best stepper motor for your needs.
Energy exploration and refining, mining, grain and textile mills, paint shops and more: Every dangerous place has very specialized requirements for movement. Get the engines you need, certified to global UL, ATEX, CSA and CCC standards and supported by service and support within a region, region.

When choosing an explosion-proof motor, you will first want to understand the different types of hazardous locations and engine construction techniques that ensure safe operation. Get a quick overview of our new blog post on the go.
Online, interactive, product selection form from KOLLMORGEN
Choose with confidence every time. Watch our instructional video!
Find out how easy Perfect-Fit movement can be From torque, speed and power to form factor, control Elements and accessories - perfect fit is the key to your success applications. With our selection tools, you can choose with confidence movement products. Our tutorial video will show you how simple it is can be. Check it!

How does a servomotor work?
Do you need a servomotor? AC or DC? Brushed or brushless? How can you precisely control its torque, speed and position? In this webinars we got answers to questions about your servo system. Watch and learn anytime, whenever it suits you!
Moog products ensure a successful Mars Rover landing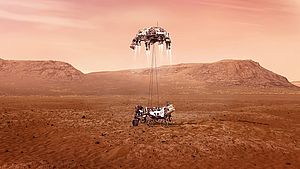 Moog Inc. (NYSE: MOG.A and MOG.B) today announced that the company's space products have played a critical role in NASA's successful Perseverance Rover landing on Mars. Perseverance is NASA's latest mission to explore Mars and builds on the success of the 2012 Mars Curiosity Rover mission. The Moog team designed, built and tested several components necessary for the mission. During the final descent, the Moog throttle assemblies controlled the inlet spacecraft's engines. The spacecraft entered the atmosphere at 12,500 miles per hour, stabilizing and lowering the level of the Perseverance Rover until it successfully touched Lake Crater at approximately 4:00 p.m. ET today.
Moog also played a key role in launching the Rover on the Red Planet. The mission fired from Cape Canaveral, Florida, on July 30, 2020. Moog propulsion took the launch vehicle out of Earth's atmosphere. In addition, Moog rocket engines were used to steer a 350 million-mile spacecraft carrying the Perseverance Rover, ensuring it stayed on course at 55,000 miles per hour. With Rover now safe on the Red Planet, Moog technology will continue to support the mission. Moog valves and filters will help keep the Rover drill clean when digging samples during one Mars, which is 687 days on Earth.
"I am proud of the work that our talented and dedicated team members have put into this project to ensure its success. Their ingenuity and commitment drive innovation and the continued success of Moog, our local community, and exploring worlds beyond our own, "said Maureen Athoe, president of Moog's Space and Defense. Steve Witkowski, market manager for space electronics, added: "From the engineers who create the individual hardware, to our technicians integrating the individual components into a larger system, it is truly a mission in a mission. It's unbelievable to think that your work is an important element in exploring another planet.
"Mars 2020 is another major step forward in space exploration and another significant success in Moog's Space and Defense," added Steve McDonald, manager of propulsion engineering. "Seeing how our hardware successfully fulfills such an important mission is both inspiring and fulfilling."