Moog's new modular electrohydrostatic drive (EAS) combines the best of two worlds: electrohydraulic (EH) and electromechanical (EM) drive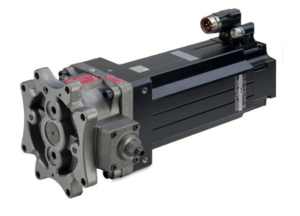 Advantages of modular EAS:
High performance and power density in a compact and powerful alternative to EH and EM drives
Environmentally friendly thanks to up to 90% lower oil consumption compared to standard systems and low noise emissions for quiet machine operation
Small number of components reduces the risk of failure and enables faster maintenance
Decentralized system does not require a large hydraulic unit and reduces the need for piping 2/3
Technology for four-quadrant operation enables universal spectrum of use even in demanding applications and efficient energy management by means of energy recovery
Low moment of inertia of the electrohydrostatic pump unit (EPU) ensures high system dynamics
Applications:
Modular EAS is suitable for a wide range of industrial machines. It can be used in metal presses, such as forging, powder and sheet metal presses up to hot presses, stamping presses and isostatic presses. In wood and paper milling, testing and power generation, the modular EAS enables improved decentralization of the machine axes. Other high-performance applications can be found in the marine industry, in the mobile machinery and in the plastics industry in injection molding and blow molding. The system reduces the need for oil for hydraulic units by 50 to 90%, which significantly reduces the operating costs of the machine.
Kristián Gyenes
Tel.: +421 37 7777 920
Mobile: +421 903 717 015
Fax: +421 37 7777 929
Email:gk@bibus.sk