DDT - Digital Displacement Technology
Digital Displacement® will bring a new generation of hydraulic generators and hydraulic motors to increase machine productivity and efficiency
DANFOSS - Artemis Intelligent Power
Danfoss acquired a majority stake in Artemis Intelligent Power Ltd. (AIP), a research and development organization based in Edinburgh, Scotland. The company specializes in the development of hydraulic systems. The acquisition also includes AIP's Digital Displacement® technology to enable Danfoss to develop hydrogenerators, hydromotors and systems with the highest possible level of efficiency, manageability and customer flexibility. Danfoss will establish a manufacturing plant in Edinburgh to supply products for Digital Displacement®.
"Digitization is a key element in our industry, and AIP's acquisition is strategically in line with our goal of becoming a world leader in innovation, efficiency and manageability." Digital Displacement® technology will provide Danfoss with a competitive edge in developing advanced products and systems AIP has a good business spirit and agile approach, and I look forward to welcoming them to Danfoss, "says Eric Alström, president of Danfoss Power Solutions.
Artemis Intelligent Power Ltd. will become a joint venture between Mitsubishi Heavy Industries (MHI) and Danfoss, with Danfoss' majority shareholding.
"Danfoss Power Solutions and AIP have been delighted with the development of Digital Displacement® for several years now, and we are looking forward to the commercial introduction of Digital Displacement® technology in a new family of power generators," said Danfoss Power Solutions, Vice President of Research and Development at Danfoss Power Solutions. "I'm really looking forward to working closely with colleagues from the MHI to fully develop the business potential and related AIP technologies."
"If people need digging, building and plowing, we will need machines to help us. But this market segment urgently needs cost-effective digital technologies to reduce emissions and increase automation, and I am delighted that our technology and our team have been recognized a key part of this solution by leading global manufacturers, as well as MHI, Danfoss considers the development of energy saving technologies the basis of its future business, "says Niall Caldwell, Managing Director of Artemis Intelligent Power Ltd.
The acquisition is subject to the necessary approval of the competent authorities. It is assumed that the acquisition will be fully completed during the fourth quarter of 2018. The parties have not announced the purchase price or other terms.
Artemis Intelligent Power Ltd., founded in 1994. It is a joint venture consisting of a team of engineers and technicians specializing in the development of hydraulic systems. Their hydraulic drive technology has high reliability and cost effectiveness. The company owns many worldwide patents and trademarks. The company has until now been a 100% subsidiary of Mitsubishi Heavy Industries (MHI), Japan. For more information, visit www.artemisip.com.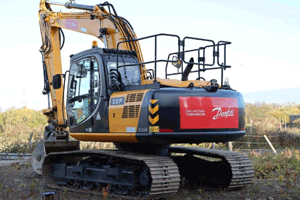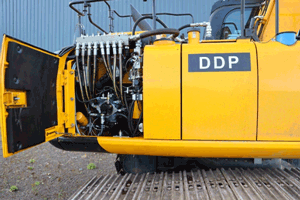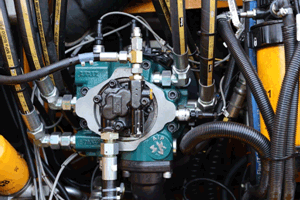 DANFOSS electrified the waist excavator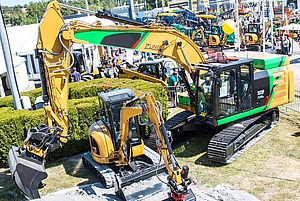 Zero emission building site
Danfoss Editron has supplied Pon Equipment AS with a battery-powered battery technology to power a 25-ton tracked excavator.
Danfoss has helped convert a fully-electric diesel-powered tracked excavator into a battery-powered drive. This should help meet the Norwegian government's requirement for zero-emission construction sites. The use of diesel-powered construction machines represents about 20 percent of all CO₂ emissions in Oslo. The new policy was adopted to support the radical proposal of Norway, which in 2016 committed itself to become climate neutral by 2030.
Tomi Ristimäki, Danfoss Editron's sales director, said: "The Z-line Cat 323F Z is a clean, green, innovative machine, powered by a powerful EDITRON powered drive system, and we have a strong relationship with Pon Equipment, in combination with our experience with electrification of heavy construction helped to bring this project to a successful end.We are pleased to have supplied the technology to Pon Equipment, which has helped satisfy the demand of the construction industry for zero-emission excavators. "
The machine can operate for up to 7 hours at rated load per battery charge. The electric excavator has zero emissions and is considerably quieter than the current diesel machines, making it ideal for use in urban built-up areas. EDITRON propulsion systems are robust and compact, with intelligent software controls that are suitable for hybrid and electrical applications in the power range from 30 kW to 2000 kW.
Eivind Hafslund, project manager for Pon Equipment's special products, said: "Danfoss Editron's decision to cooperate with Danfoss Editron has been simple, and is recognized as a key supplier of building machinery electrification technology, and Danfoss Editron also has valuable experience at the application level that is critical to success The EDITRON propulsion system is a global unit in terms of performance and performance, and its efficiency and robustness are critical to the demanding requirements of the construction industry. "
Electrification of a tracked excavator brings many benefits to our customers. For example, lower machine emissions, safer and more reliable work operations, and a shorter payback time. The first commercial machine is now in production. We have already received seven orders from customers in Norway and Scandinavia. Similarly, these machines are interested in Germany, France, the Netherlands and the United Kingdom. "
Peter Lauko
Tel.: +421 37 7777 955
Mobile: +421 903 282 644
Fax: +421 37 7777 967
Email:lp@bibus.sk
Jaroslav Tvrdoň
Tel.: +421 37 7777 954
Mobile: +421 914 336 525
Fax: +421 37 7777 967
Email: tvr@bibus.sk
Vladimír Begáň
Tel.: +421 37 7777 954
Mobile: +421 914 336 527
Fax: +421 37 7777 967
Email:vbe@bibus.sk