FMS Force Measuring Systems AG
New product group
Products of the company include
sensors and amplifiers for measuring the strength of materials
control cards for controlling tension in material
Systems of guidance material
wireless systems for monitoring tension in the materials (fibers, wires)
Products Company can be found in the following areas
processing of materials in rolls "CONVERTING"
production of cables and wires
Manufacture of basic metals
paper industry
textile industry
The sensor senses the position of the material
material management controller calculates the deviation from the reference position and controls the actuator accordingly swing frame
Actuator swing frame keeps the position of the reference material placement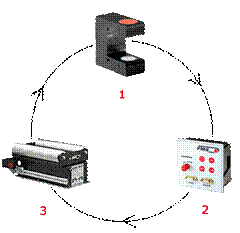 BKS 309.EIP EtherNet / IP Material Controller
The BKS 309.EIP Material Controller is an innovative extension of the successful BKS 309 Series. With the integrated EtherNet / IP bus system, this system is extensively upgraded. This allows you to attach your material controllers to the higher level control or guidance elements. The control units can be combined with all rotating frames, control units and FMS assortment sensors.
| | |
| --- | --- |
| Main features | Advantages |
| Integrated EtherNet / IP Bussystem | It enables the integration of the material control regulator to higher level control systems |
| Fast transfer rate with cycle times up to 2ms | Ideal for use in automated production lines |
| Clear display control with two-line display | Simple operation |
| 3rd types of driver body design | Available for wall mounting (IP65), DIN rail and built-in version. |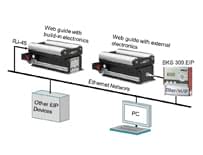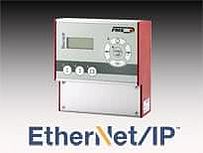 Motorized Sensor Adjustment BKS.TA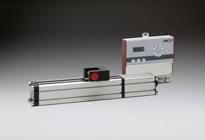 The BKS.TA is a series of motorized traverses designed to align precisely the material sensors on steering frames via an operation panel. One motorized sensor adjustment is required per sensor.
| | |
| --- | --- |
| Features | Advantages |
| Remote-controlled sensor adjustment | Allows precise sensor adjustment also in inaccessible places |
| 4 types with adjustment ranges of 200, 400, 600 and 1000 mm | Sensor positioning over the entire web width. Adaptable to any frame size. |
| Stepper motor / threaded spindle | Backslash-free, highly accurate positioning |
| Rugged design in aluminium profile | Long-lasting reliability, maintenance-free |
FMS - webMASTER and webDIRECTOR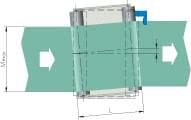 Material management system FMS is mounted as close as possible to where accuracy is required. The FMS system-webmaster would swing frame length (L) should be the same as the maximum material width (Mmax). For optimum control of the sensor sensing the position of the material is mounted as close to the outlet of the rotary frame. The FMS system-management material WebDirectory will take place through a virtual turning point swing frame.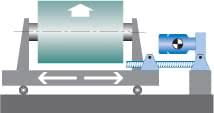 Actuators Board FMS-winderGLIDE have been specifically designed for use in unwinding and winding stations. Leveraging powerful drives are suitable for moving large rolls and stands. Sensor sensing the position of the material is mounted in the nearest tensioning cylinder. Use of electric drive actuators FMS versus hydraulic unit is favorable especially in food processing and pharmaceutical packaging, because here there is no contamination from oil and hydraulic fluid.
Maintaining a constant tension by the company products FMS
Winding / unwinding, coating, printing, and many other manufacturing processes require constant stress the material.
While addressing actuators, sensor technology, bus systems and amplifiers, the control voltage became necessary technologies required in the manufacturing process and process film, metal, paper and wire.
Nowadays, the load cells to measure stress (strain gauges) part of the standard equipment lines for materials in rolls.
Closed principle of voltage control "Closed loop tension"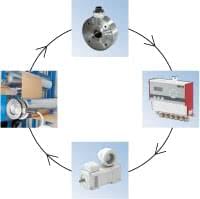 The sensors measure the actual voltage values of both voltages.
Voltage regulator amplifies the measured signal from the strain gauge and calculates the output value of the difference between the reference and actual.
The drive, brake, or clutch converts the output value of the voltage regulator to the corresponding torque or speed The.
In the processed material will be kept notes sett ..
Advantages:
defined, adjustable tension material;
reproducible values to physical units (Newtons, pounds, etc.);
Known manufacturing conditions for finished products (quality recording capability).
Strain:
Operational reliability and accuracy of measurement determine the productivity and quality of workmanship. Type of processed material and other factors, such as temperature, humidity and changing winding diameter, result in constant voltage variations in materials processing - without closing voltage control. FMS strain gauges measure and transmit a signal proportional to the voltage to the FMS electronic units. Individually tested FMS strain gauges are characterized by their ability to withstand extreme overload while maintaining maximum accuracy in the industry.
This is achieved through integrated mechanical knobs for overload protection and use of foil strain gauges which are connected as a Wheatstone bridge in each sensor to ensure the highest possible measurement accuracy. The sensors must be designed for each application separately and FMS to this end, provides a wide range of sensors. Calculation can be converted easily with the calculation program.
RTM: Wireless transmission voltage monitoring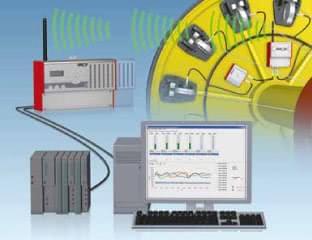 Innovative Systems RTM evaluated data on stresses in individual strands of ropes or cables during stranding machines for processing. The load button is used for each source to obtain the actual voltage values ​​and the corresponding data are then transmitted in real time from the rotating parts of the machine on a fixed surface. Transmission of wireless signals using public 2.4 GHz frequency band, while custom-coded protocols ensure high reliability and security, thereby eliminating the need for costly and problematic slip rings. Sophisticated and flexible interface concept allows quick and easy integration into existing control and communications infrastructure equipment. The RTM is available in various configurations, so you can choose the most appropriate option that best meets the requirements to collect data when upgrading existing stranding machines.
If the old machine is fitted with a power supply rotating section, are available rechargeable batteries. This makes the RTM systems optimized for low power consumption, and on battery power, it is possible to extend the operating time. The system provides an ideal basis for effective management of costs and quality as in the manufacture as well as for manufacturers of machinery.
Load cells calibrated for voltage measurement are located on the rotating part of the machine. Signals from up to 40 channels-ers are collected in a central unit that transmits to a receiver on the static side. The receiver processes the signals and depending on individual requirements, providing analog signals on the bus or on the computer screen of the corresponding software.
There are various systems adapted for the respective types of stranding machines. One system allows you to measure voltage up to 42 individual strands-oh. For machines with a large number of sources, it is possible to combine multiple systems. All signal processing options described above are available on our website. There is also a version of the battery.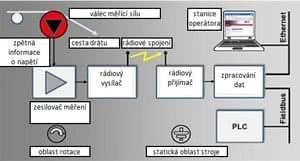 Kristián Gyenes
Tel.: +421 37 7777 920
Mobile: +421 903 717 015
Fax: +421 37 7777 929
Email:gk@bibus.sk