Bansbach Easylift takes over Danish electric actuator manufacturer Concens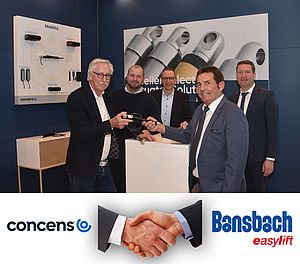 Bansbach easylift GmbH takes over the Danish electric drive manufacturer Concens A / S in Esbjerg with retroactive effect to 1.1.2022 and sustainably strengthens the electric drive business.
Concens A / S has been developing and manufacturing customer-specific electric drives since 2003. For more than 5 years, Bansbach has been working very well with Concens as a co-owner and is now strategically expanding this cooperation through a full takeover. "Like everything in the Bansbach family business, this acquisition is a long-term investment that will benefit the production plant in both Lorch and Esbjerg," says Edgar Hahn-Bansbach, owner and CEO of Bansbach easylift.
The diversification of Bansbach easylift products will be further developed to complement the successful production of gas springs in a meaningful and sustainable way and to further strengthen and expand the plants in Denmark and Lorch in Swabia with more than 300 employees.
Anna Bansbach, the 4th generation of family business owners, adds: "Now the point is to make even better use of mutual know-how and synergies so that we can continue to grow together and continue to write long-term success stories for both companies. We look forward to working even more closely with our colleagues in Denmark, which will benefit our employees in Lorch in the long run. "
Concens A / S, based in Esbjerg, Denmark, develops and manufactures electric drives in a particularly slim in-line design. As a result, the drives integrate very easily into applications in areas such as medicine / rehabilitation, special vehicle construction, industry, the navy, smart home or fitness, which are very similar to applications in which gas springs are already used. In Esbjerg, 30 employees currently work on the production, development and sale of these custom actuators.