The sustainable use of raw materials and the regeneration of residues are central tasks on the way to a sustainable, future-oriented economy! The recycling of raw materials is already increasingly contributing to the supply of raw materials. The use of new technologies and processes enables an ever-higher rate of recovery and therefore becomes more and more profitable. Pulsotronic-Anlagentechnik GmbH is a pioneer in systems for sensor sorting of all kinds of metals For more than 20 years, we have been developing and manufacturing special sensors for recycling applications. As a partner of many well-known manufacturers of sorting machines, we are the world number one when it comes to such systems. With our experience and tens of thousands of sensors in the field, we are able to implement customer-specific sensors for almost any application.
Various versions are available for integration into machines. The sensors are available in widths up to 2 meters and resolutions between 12 and 100 mm. There is also the option of side-by-side arrangement of several sensors to achieve sorting widths of more than 2 meters. Ethernet, RS485 or PNP switching outputs are available as standard interfaces.
As a manufacturer of sorting machines, are you looking for the right solution for metal detection using sensors? We will be happy to advise and support you in the implementation of sensors in your control environment!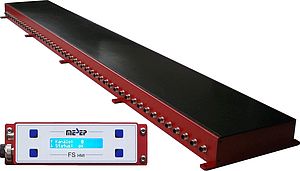 These highly sensitive surface sensors for the detection of small metal parts of all kinds are characterized primarily by spatially resolved detection. This means that metal parts are not only detected, but also their position on the sensor is determined. This makes this unique sensor particularly suitable for use in the recycling industry. For example, metallic impurities can be ejected from the material flow with perfect precision. In this way, crushed material or granules can be optimally sorted. The sensor can be used for conveyor belts, slides or free fall applications.
Special features
different sensor widths available (50 mm - 2000 mm)
different resolutions available (12.5 mm - 100 mm)
integrated control of discharge organs
no metal-free zone is required
Stable aluminum cover resistant to twisting
light construction
separate control panel available
Interface for PC or PLC
Degree of protection IP65
Sensitivity adjustable using control electronics
stackable variants on request

Like all sensors of the MESEP FS series, the third generation of devices offers highly sensitive and accurate detection of the smallest metal particles. Thanks to the integrated Ethernet interface, sensor data can be sent to a PC or PLC in real time for the first time and evaluated there. This technique makes it possible to combine sensor data with the measured values of other devices - such as spectrometers, cameras or X-ray machines. This opens up completely new applications in many areas of industry such as mining, textiles, recycling, paper, foils and many others.
Special features
Ethernet interface; RS485
CAN, EtherCAT on request
Real-time data output (sampling frequency 1kHz)1
no metal-free zone is required
Stable aluminum cover resistant to twisting
Web server for the easiest commissioning
light construction
Degree of protection IP65
Sensors with up to 124 channels
Demo software available for PC
customer-specific resolutions available (12 mm - 100 mm)
CW3 / KCW3 checkweighers from Pulsotronic-Anlagentechnik GmbH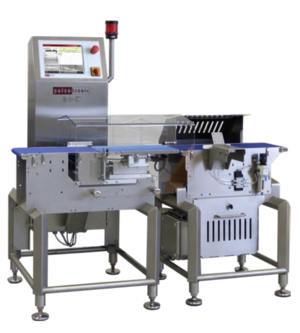 Scales on conveyor belts - so-called checkweighers - are among the most important control devices to control the final package food. They offer the advantage of 100% control over all packages without time-consuming manual random control. Thanks to type approval, our equipment can be used for all inspection tasks.
The heart of our checkweighers are robust and reliable DMS load cells from Germany. These branded cells guarantee a long service life and a long service life.
CW3 / KCW3
The CW series checkweighers enable quality assurance at the highest level. Wide range of devices and extensive optional accessories
allow flexible use in all areas. Robust and The maintenance-free strain gauge in combination with the wear-free DC motors, which enable wear, allows continuous use without unpleasant downtimes or faults! All checkweighers are also available with type approval. This makes the scales particularly interesting for the food industry. Individual products can be checked for their weight in accordance with FPVO and underweight packages can be rejected. It is also possible to check the mean value of the production batches. This control and the optional return of averages reduce prices and thus lead to sustainable cost reductions.

Special features:
Display accuracy up to 100 mg
Calibration value 1.0 g
Transport speed 20 .. 90 m / min (infinitely variable)
Degree of protection IP65 10
"TFT touch screen Integrated memory for 10,000 messages and 10,000 products multilevel user management
Network interface (Ethernet)
for statistical evaluation of data using UNIControl software
accessories / "metal detector" option for the tester
Belt width: 200 mm / belt length for weighing: 300 .. 400 mm
Up to 2 safes for separate removal of underweight and overweight or metal in combination with metal detector
Pulsotronic-Anlagentechnik GmbH - A pioneer in the development of metal detectors for the food, plastic and recycling industries.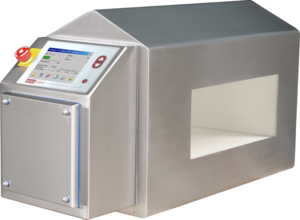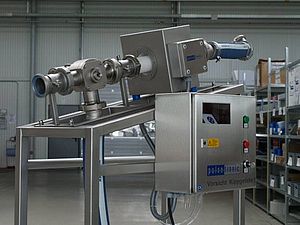 Metal separators for bulk materials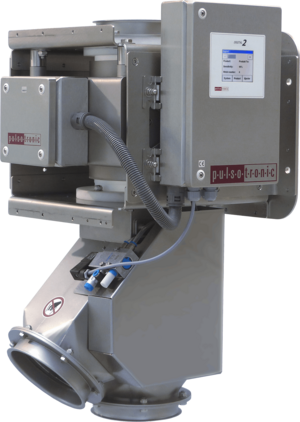 Flat sensors for recycling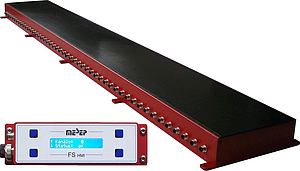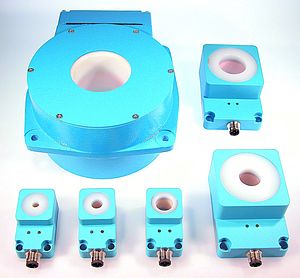 Ring sensors
Are used to control piping systems. The sensor is mounted around a pipe with a flow medium that is controlled for the presence of metal particles.
Ring sensors can be controlled by free fall e.g. The number of finished pieces of products or a signal can be given to control the machine. Pulsotronic offers a large selection of ring sensors, of different diameters as well as square shape. The sensors are further distinguished by the sensitivity and the output signal type.
Surface detectors
Are installed in conveyor belts or sliding channels. Their installation is possible under the conveyor belt and above the conveyor belt to achieve maximum sensitivity. Surface sensors can consist of individual modules of the desired width or are supplied in one piece in lengths from 200mm to 800mm. These lengths can be graded as required by 1mm.
Delivered tunnel detectors find application:
In the rubber industry
In the plastics processing industry
Wood processing
Food industry
The advantage of a splittable tunnel detector is to simply fit into the conveyor belt. The assembly of the top and bottom of the detector case is very simple and the conveyor need not be dismantled.
Separators
e.g. Mesep digital - is intended primarily for the separation of metals from free-flowing bulk materials where the metal particles are separated with the gravitational flow of the material.
Kristián Gyenes
Tel.: +421 37 7777 920
Mobile: +421 903 717 015
Fax: +421 37 7777 929
Email:gk@bibus.sk