KOLLMORGEN 2G Motion System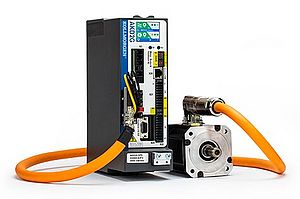 Kollmorgen represents a new generation of motion for more ambitious machines based on more powerful performance and more reliable engineering. The Kollmorgen 2G Motion System leverages the full power potential of our leading AKM2G servo motors and perfectly matched AKD2G drives designed to provide unrivaled power density and control. The result is significantly increased torque, sensitivity and SafeMotion capabilities in a compact footprint, allowing easy installation and complete flexibility. For existing machines, the Kollmorgen 2G Motion System is a simple and cost-effective upgrade path for maximum performance and performance. New designs are about changing the game. Unprecedented performance simplifies the design and deployment of lighter, more compact, more efficient and efficient machines
More ambitious machines
Create your most innovative machine and launch it faster, knowing you can rely on optimized movement. The 2G Motion System provides drives, motors and cables designed to work together for maximum performance without compromise or over-design.
AKM2G engines deliver 30% more torque on average than previous designs, without changing package or mounting size. They are paired with compact units that save space in the cab and provide more system information and unmatched tuning and control capabilities. Our AKD2G dual-axis drives provide up to twice the power density and all drives include I / O that can be expanded without increasing panel space requirements. Integrated SafeMotion capabilities and AKD2G secure inputs support the design of advanced features that enhance operator safety and productivity. AKM2G offers a choice of functional safety compatible options to complete your system design.
Higher performance
Kollmorgen 2G Motion Systems provide standstill performance with little or no change to existing machine design. Our engines are available with a wide range of frame and stack combinations and electrical configurations. The Kollmorgen 2G Motion System gives you the flexibility and performance to create more productive machines that incorporate advanced SafeMotion features in the smallest possible track without compromise. Ensuring capable performance requires more than just a product catalog. Kollmorgen's common technology means you are perfectly suited for your application without re-installing the machine or without a new project that allows you to create a drawing board. With Kollmorgen, you have a vendor that you can call at any time to talk about the needs of your application. Not only to call the support team, but also to the real engineers who designed the elements of the movement system itself.
Kristián Gyenes
Tel.: +421 37 7777 920
Mobile: +421 903 717 015
Fax: +421 37 7777 929
Email:gk@bibus.sk