SUCO Robert Scheuffele GmbH & Co.
BIBUS SK, s.r.o. has been supplying its customers for years with SUCO Robert Scheuffele GmbH & Co., a leading global manufacturer. KG.
From pressure switches, switches to pressure sensing, we offer a complete range of products from this renowned German manufacturer.
BIBUS SK, s.r.o. is an exclusive distributor for SUCO - Robert Scheuffele GmbH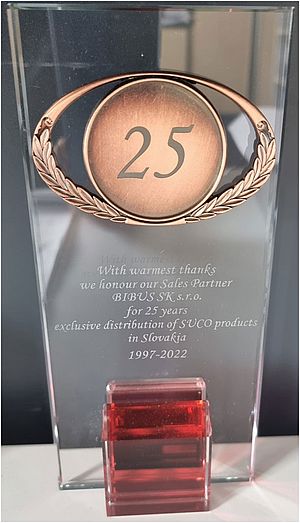 At the recently held International Sales and Marketing-Meeting of SUCO - Robert Scheuffele GmbH, our company BIBUS SK, s.r.o. awarded a prestigious award for 25 years of successful mutual cooperation. As SUCO exclusivedistributors, we are rightly proud of this award. At the same time, we are looking forward to further years of successful cooperation with SUCO - Robert Scheuffele GmbH, as a world leader in the field of pressure monitoring.
Source:
International Sales and Marketing-Meeting of SUCO - Robert Scheuffele GmbH
Catalog sheet:
www.suco.de
SUCO product overview flyer
SUCO extends the overpressure protection and redefines the burst pressure of its mechanical pressure switches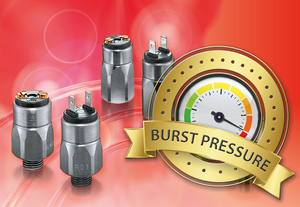 SUCO pressure switches "Made in Germany" are represented in nearly every industrial sector, in which hydraulic or pneumatic pressure must be reliably and safely measured, monitored and controlled. For decades, mechanical pressure switches from SUCO have acquired an excellent reputation worldwide. Its customers include well-known manufacturers in the fields of mobile hydraulics, machine and plant construction, as well as medical and process technology.
In addition to the wide range of variants and the defined temperature resistance covering extreme conditions (NBR down to -40°C, FFKM up to +120°C), the extraordinary features of SUCO's mechanical pressure switches also include long service life and outstanding overpressure safety.
By continuously optimizing its processes and components, SUCO has succeeded in significantly increasing the already above-average overpressure resistance of its mechanical pressure switches. This was confirmed, among other things, by an external, independent test laboratory as part of a dynamic pressure change test.
A selection of mechanical diaphragm and piston pressure switches has been tested. Based on the test results, the above average overpressure resistance values of all tested pressure switches can be confirmed. Some of the series completed the entire test scenario with a total of 1.5 million cycles at various pressure levels up to max. 720 bar without failure.
Following the results, SUCO will extend the values for static overpressure strength even further. In addition, SUCO will specify values for the static burst pressure for the hex 24 and hex 27 mechanical pressure switches in future, which will reach impressive values of up to 1,000 bars.
The average burst pressure within the fluid market is approx. 20-30 % higher than the overpressure safety. With burst pressure values of up to 1.75 times the overpressure safety, SUCO switches are significantly higher, which has a positive effect on the service life and operational safety.
Thanks to this improvement, the SUCO group is taking one big step towards its vision of being one of the leading solution providers in the field of pressure monitoring and drive technology. Together with more than 65 mostly exclusive sales partners, worldwide customer service is ensured.
The SUCO group - a reliable and innovative solution provider, worldwide at your side.