SUCO - "À la carte" pressure sensors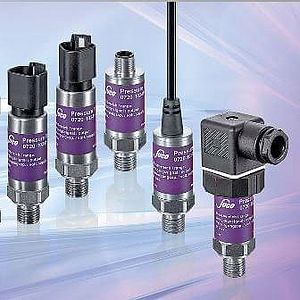 SUCO complements its family of pressure sensors with SoS technology.
SUCO Robert Scheuffele GmbH & Co. KG has developed an entirely new generation of High-Class pressure sensors.
This series builds on the so-called Silicon-on-Saphire (SoS) technology and meets the highest demands in the toughest conditions in industrial applications of all kinds.
Welded parts that come in contact with the medium are made of stainless steel and titanium. They ensure trouble-free contact with the media and, in combination with a negligible temperature error, guarantee the product's longevity. Exceptional protection for overpressure sensors (up to 4 times) makes them suitable for use not only in the field of hydraulics.
07xx
High-Performance-Board
High precision electronic pressure sensor with Silicon-on-Saphire technology
Pressure range up to 600 bar
4-fold overpressure protection
Exceptional thermal and long-term stability
06xx
Performance Board Pressure Sensors
Cost-effective pressure sensors up to 250 bar
2-fold overpressure protection
Compact small sensor
Various electrical and mechanical connection options
06xx
Stainless steel version
Pressure sensor for vacuum and pressures up to 100 bar
The parts in contact with the medium are made of stainless steel
Ratiometric current and voltage output signals
Excellent for applications using hydrogen and oxygen.

Wetted parts are all made of stainless steel for high resistance to chemicals
Stainless steel diaphragm welded with casing
No seals and thus low leakage rate even with difficult gases
High overpressure safety especially suitable for use in hydraulic systems
Long working life even with high rates of pressure cycles
Flexible voltage supply and current or voltage output signal for your control electronics
High accuracy (0.5 % full scale) and reliability for secure process monitoring
Very small size for compact subassemblies
IP67 with robust connections for reliable wiring
Viliam Moravec
Tel.: +421 37 7777 953
Mobile: +421 903 720 733
Fax: +421 37 7777 968
Email:vmo@bibus.sk