Switchboard:
Design for gate valves or poppet
Two-position and three-position
2, 3, 4-way distributors
Single-stage (direct control) and two-stage (indirect control with control stage)
Manually operated hydraulic, pneumatic, electric
Built-in (cartridge) or mounting plate (CETOP)
Selected distributors in versions for explosive atmospheres (ATEX)
One-way valves:
Unidirectional logical three-way valves
Selection valves
One-way valves
One-way valve with bypass
Hydraulic locks - controlled opening
Hydraulic locks - controlled closure
And pressure reducing valves:
Directly managed Bypass valves
Nepriamoriadené bypass valves
Reducing valves directly managed
Nepriamoriadené reducing valves
Safety valves with bypass
Sequence valves
Butterfly valves:
Built-in butterfly valves
Butterfly valves in modular design
Two-way flow control valves with pressure gradient stabilization
Three-way butterfly valves with the stabilization of the pressure gradient
Dividers and connectors Flow
Brake valves:
Triggering brake valves
Triggering brake valves, partly independent of the dynamic pressure
Triggering brake valves, completely independent of the dynamic pressure
Triggering brake valves, quite balanced, with internal drainage
Proportional technology:
Proportional distributors for installation on board brightness NG4, NG6 and NG10
Directly controlled bypass solenoid actuated proportional valves
Indirectly administered by the overflow solenoid actuated proportional valves
Directly controlled proportional solenoid reducing valves
Indirectly controlled by reducing solenoid actuated proportional valves
Two-way pressure regulator
Three-way pressure regulator
Electronics for control proportional valves
Connecting rods and blocks:
Terminal Connecting plates
Convection built-in valves
Cover plates
Connection board
Adapter plate for built-in valves
Indirectly controlled 2/2 saddle built-in distributor with high volume flow and excellent tightness in both directions
SD3E-C2*S5 ( S6 )
Available basic shell positions 2S5 (closed) or 2S6 (open).
Benefits:
High tightness of the cone in both directions
Extremely high hydraulic performance
Flow rate up to 150 l/min, working pressure up to 350 bar
Normally closed (2S5) and normally open (2S6) variant
Coil interchangeable within the SD*-C/H* product line
A wide selection of emergency controls mainly for connecting the S6
Lifetime guaranteed up to 10 million cycles
Technical parameters:
Flow rate up to 150 l/min, working pressure up to 350 bar
standardized chamber 1-1/16-12 UN
NBR seal (liquid operating temperature range -30 … +80°C)
FKM seal (liquid operating temperature range -20 … +80°C)
High level of surface protection by galvanizing according to ISO 9227 (resistance 520 h)
Voith Technology Group takes over ARGO-HYTOS.

ARGO-HYTOS – a company based in Baar, Switzerland, develops and manufactures hydraulic components and system solutions with a focus on the mobile hydraulics sector (agricultural tractors, road and construction machinery, etc.).
The underlying agreement was signed on June 6, 2022. The deal is expected to be completed in August 2022, subject to all regulatory approvals. Both parties agreed not to disclose financial details of the transaction.
Voith is a technological leader in drive technology in various industries. The mobile hydraulics sector has been defined as another growth area for Voith Turbo. With its more than 70 years of experience, its focus on technology and innovation, as well as its clear customer orientation, the family business ARGO-HYTOS is a perfect fit for Voith. This makes ARGO-HYTOS the ideal entry point for Voith into this promising market.
Voith will acquire 79.5% of ARGO-HYTOS shares through the acquisition. The continued participation of the two previous owners – Christian Kienzle and FSP CAPCELLENCE – gives a strong signal that ARGO-HYTOS will consistently and continuously continue on the successfully embarked path even with the new ownership structure.
4/2 electromagnetically controlled switchboard with axial encoder and functional safety certificate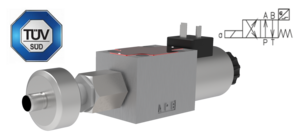 Argo - Hytos presents you with an improved RPE3-062x / xS3 switchgear with axial encoder, new with TÜV SÜD certification!
RPE3-062x / xS3 *
Benefit
High hydraulic power
Low pressure losses
Contactless inductive valve position sensor with double inverted output signal
Wide selection of valve connections, supply voltage and coil connectors
High level of surface protection by galvanizing according to ISO 9227 (resistance 520 h)
Guaranteed service life of up to 10 million cycles
Technical parameters
Maximum flow up to 80 l / min (21 GPM)
Maximum working pressure up to 350 bar (5,080 PSI)
NBR seals (for temperatures from -30… + 80 ° C)
FPM seals (for temperatures from -20… + 80 ° C)
Low sensor switching point hysteresis
Peter Lauko
Tel.: +421 37 7777 955
Mobile: +421 903 282 644
Fax: +421 37 7777 967
Email:lp@bibus.sk
Jaroslav Tvrdoň
Tel.: +421 37 7777 954
Mobile: +421 914 336 525
Fax: +421 37 7777 967
Email: tvr@bibus.sk
Vladimír Begáň
Tel.: +421 37 7777 954
Mobile: +421 914 336 527
Fax: +421 37 7777 967
Email:vbe@bibus.sk