Proportional distributors with built-in electronics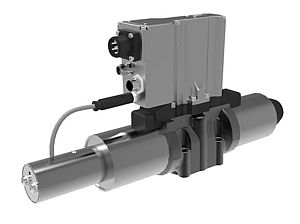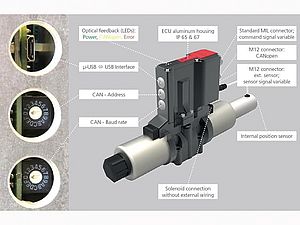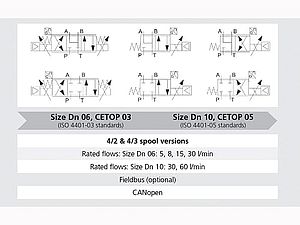 On-Board Electronics (OBE) is the direct and best way to compensate for the non-linear behavior of the switchboard. The position sensor and electronics on the switchgear body complement the control circuit directly on the power system member. Mechanical tolerances, friction, hysteresis and wear do no longer cause disturbances in the accuracy of the appliance's movement. With modern machine monitoring, the sensor information can also be sent to the machine's control system.
Benefits of deploying proportional technology
Efficiency, speed, accuracy, low hysteresis, repeatability, and the ability to change management are the key benefits of implementing proportional technology in hydraulic applications. ARGO-HYTOS switchboards, combined with advanced electronics, are able to meet the demands placed on a large number of stationary and mobile applications.
ARGO-HYTOS develops and manufactures proportional switchboards that enable customers to benefit fully from the benefits of proportional technology.
The new PRM9-06 and PRM9-10 cabinets with advanced electronics and mechanical components and together with rugged design make this possible.
Construction:
available in two sizes 06 - (D03) and 10 (D05) according to ISO 4401
Feedback from a slider or a managed system
Digital OBE for control in closed loop control with high dynamic response
Feedback position feedback reduces hysteresis
It is also used to control the position and speed of hydraulic motors
meets the requirements for impact and vibration, EMC, IP, environmental and temperature requirements
durable construction / reduced cabling required / high corrosion resistance
Parameters:
Highly transmitted hydraulic power with smooth control
Constant / unchanged parameters under different operating conditions
Optional: Fieldbus access / communication, CANopen connection
Advantages and Benefits:
one solution for several control signals - parameterization within one switch cabinet version
user-friendly interfaces (LED, μUSB)
Easy-to-use software
Optical signaling of switchboard status via 3 LEDs
Improved anti-corrosion protection for the mobile machinery industry (ISO 9227, 520 h salt spray)
Excellent resistance to impact and vibration

Peter Lauko
Tel.: +421 37 7777 955
Mobile: +421 903 282 644
Fax: +421 37 7777 967
Email:lp@bibus.sk
Jaroslav Tvrdoň
Tel.: +421 37 7777 954
Mobile: +421 914 336 525
Fax: +421 37 7777 967
Email: tvr@bibus.sk
Vladimír Begáň
Tel.: +421 37 7777 954
Mobile: +421 914 336 527
Fax: +421 37 7777 967
Email:vbe@bibus.sk