Vacuum is used with great advantage in conveying dry powder products through dedicated pipe systems. Piab's vacuum conveying systems are built of high quality material.
When producing food, pharmaceuticals and chemical products there are demands on the highest possible degree of safety as to hygiene and operation. Piab's piFLOW® conveyors have been developed as an answer to the severe requirements of operational safety and hygiene in the food, pharmaceutical and chemical industries.
A safer working environment in the food and pharmaceutical industries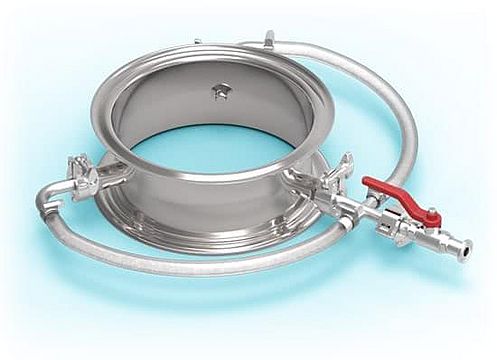 The WIP (Wet-In-Place) function has been added to the popular vacuum conveyors piFLOW®p. WIP spraying nozzles are now available for inclusion or retrofitting to new and existing piFLOW®p conveying systems.
Water sprayed with WIP nozzles dries any dust from food or pharmaceutical materials left in conveyors and prevents them from escaping into the air, where they can inhalate the worker during the maintenance or cleaning process. By brushing the potentially harmful material residue before opening the cleaning device, the spray nozzles ensure that each such dust remains Wet-In-Place until it can be safely removed.
For maximum performance and to ensure the fastest capture of as many material as possible, it is possible to mount up to three WIP modules on each conveyor. The configurable construction of the piFLOW®p conveyor also allows simple additional WIP units. The piFLOW®p conveyor for powder and loose materials is designed to perfectly meet stringent operational and hygiene requirements in the food and pharmaceutical industry.
Slavomír Brath
Tel: +421 37 7777 950
Mobile: +421 903 282 393
Fax: +421 37 7777 969
Email:sbr@bibus.sk