SCHUNK develops reliable grippers for medical applications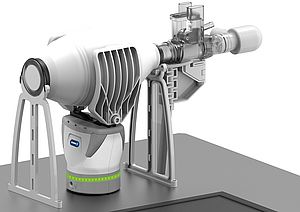 The concept was developed in close collaboration with doctors from the University of Tübingen and is based on automated resuscitation ventilation, which can be very easily set up and adjusted using the touch screen. The pressure can be set between 4 mbar and 50 mbar, the volume from 200 ml to 800 ml, the frequency from 5 to 80 cycles per minute and the inspiration time I: E 1: 2 to 4: 1. Therefore, the system covers all relevant parameters to ensure artificial ventilation of patients with COVID-19. SCHUNK uses proven sensor systems and mechatronic grippers with additively made gripper fingers from its own product line, as well as an industrially established control unit for the patented system. The correct function of the device is constantly monitored and all faults, such as leaks or clogging of the ventilation hose, are signaled immediately. Thanks to its design, it is possible to switch between manual and automated ventilation in a very short time.
A look at other industries
"This application shows how versatile and reliable our gripping system components can be used in medical technology and other industries," emphasizes Timo Gessmann, CTO of SCHUNK, and supports the creative use of the potential of automation solutions. "The modular design of our software and electronics allows us to implement new features and services in a very short time. With our newly created team for new types of automation applications, we are able to successfully implement such customer-focused products and solutions and solutions from "development to certification"
Kristián Gyenes
Tel.: +421 37 7777 920
Mobile: +421 903 717 015
Fax: +421 37 7777 929
Email:gk@bibus.sk