Valves for pressure control
Valves for flow control
Brake valves
Switchgear
Proportional valves
Solenoid valves
Logical gates
Specific design of valves
Terminal Connecting plates
Adapter plate for built-in valves
The manifold blocks for Danfoss engine, Staffa, Eaton
Blocks for Embedded valves
ENERGEN™ creates energy - all in one check valve!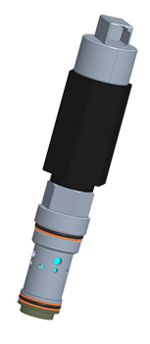 Energen™
is a new, highly efficient non-return valve that allows free flow from inlet to outlet and blocks flow in the opposite direction.
consists of an integrated generator that converts lost hydraulic power into usable energy – providing a durable power source and at the same time full functionality of the check valve.
generates power for additional equipment or tools. It can also recover lost hydraulic energy from the return line to the tank or from the by-pass system.
Advantages and properties of ENERGEN™
converts hydraulic losses into electrical energy
generates energy for sensors, solenoid valves and other electronics directly in the hydraulic valve
reduces the amount of cabling for higher reliability and safety
Sun cartridge valves for Common cavities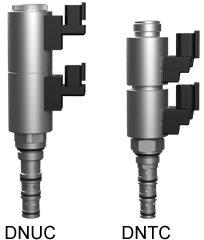 SUN Hydraulics has officially announced the launch of Sun Common (SC) cavity valves. These valves are designed with SAE-style common cavity that complies with the ISO 17209:2013 standard.
The new Common Cavity cartridge valves are optimized for lower pressure systems and expand Sun Hydraulics' wide range of existing cartridge valves.
Currently, the following types of valves are available for Common Cavities:
4/3 switchboard electrically controlled slide type
4/2 switchboard electrically controlled slide type
3/2 switchboard electrically controlled slide type
2/2 switchboard electrically controlled slide type
selection valve
check valve
for cavity size 08 and 10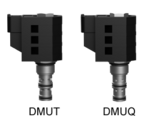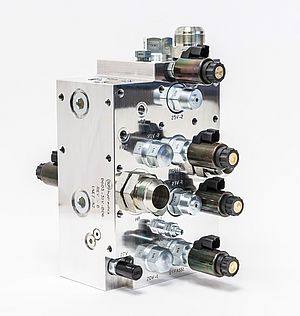 Regenerative circuits are used to ensure higher extension speeds of the straight hydraulic motor (cylinder). When extending, the hydraulic oil from the piston rod side (differential side of the cylinder) is transferred to the full side of the cylinder.
In this way, the same extension and retraction speed can be achieved.
There are two types of regeneration:
permanent regeneration - regeneration is functional in all operating states
pressure-dependent regeneration - in this case, regeneration occurs only at a certain time. If the working pressure rises above the set value, the regeneration is stopped and the full surface of the cylinder is used => a higher force is achieved, but with a slower extension. High speed of movement at lower force vs. full force at a lower extension speed is used e.g. for rapid feed / pressing presses.
Sun hydraulics offers ready-made solutions for regeneration:
with working pressure up to 350 bar
flow rate up to 910 l / min
in pipe design or as modular blocks for vertical grouping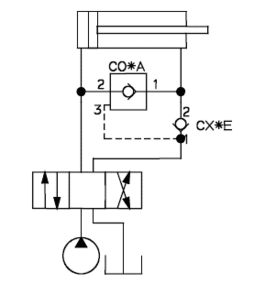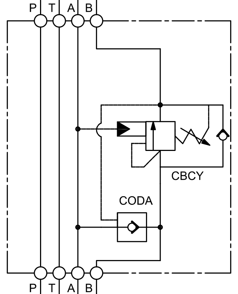 SUN Hydraulics - RPEI valves
Precise electro-proportional pressure limitation, ideal for motor control for fans
The new RPEI valves offer fine and precise fan speed control with a pressure limiting function in the event of a blockage in the fan motor or a power failure.
The RPEI combines an electro-proportionally adjustable pilot stage and a power main stage that allows precise pressure control that is inversely proportional to the electrical input signal. The setting of the maximum limiting pressure takes place on the adjusting screw with the solenoid switched off and allows the designer to adjust the RPEI according to his individual requirements.
In the case of fan drives, the electro-proportional RPEI with inverse pressure limiting function provides gentle and precise changes in motor pressure to maintain the required fan speed and also serves as a pressure limiting valve to protect the hydraulic system when the fan motor is blocked or solenoid is supplied. interrupted (RPEI limits the pressure to a mechanically set value).
The new RPEI valves have the following features:
Nominal flow 95 l / min.
Available in two pressure settings:
"A" setting: 210 bar - manually adjustable from 60 to 210 bar (740 series low power coil required).
"W" setting: 350 bar - manually adjustable from 140 to 350 bar (740 series high power coil required).
Developed and tested for 5 million operating cycles.
Meets the new NFPA T2.6.1 R2014 test standard for fatigue and destruction pressures.
Standard Zinc-Nickel finish (1000 hours in salt spray).
Fully compatible with XMD proportional amplifiers (for open and closed circuit applications).
More information on Precise electro-proportional inverse relief valve | Sun Hydraulics
SUN hydraulics - Modular valves for speed control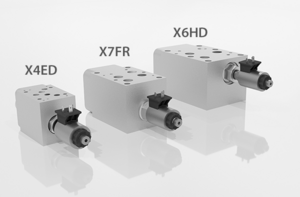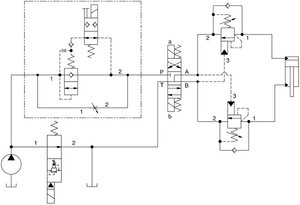 Standard hydraulic solutions from Sun hydraulics are field-tested, ready for immediate use and their portfolio is constantly expanding. Thanks to more than 700 ready-made solutions that provide 20 different control functions, you can implement your hydraulic equipment faster.
Now this portfolio is expanded by 9 new modular speed control valves of ISO-03, -05, -07 and -08. This family of modular valves consists of a 2/2 manifold, which in one position allows full flow and in the other position conducts the flow through a control throttle valve. Such a connection allows step-by-step control of the speed of the appliance. These modular valves use a variety of throttle valves to control the flow, from a needle throttle valve to pressure drop stabilization throttle valves.
The two important features of these modular valves are:
maximum speed of the appliance during normal movement
precise speed control when necessary (eg precise positioning of parts or slow movement during pressing)
This is exactly what you need to increase productivity, shorten work cycle time.
SUN hydraulics - New FLeX ™ series of saddle valves
Sun hydraulics has launched the new FLeX ™ DWBF series saddle valve - a directly electrically operated 3/2 saddle switchboard with two configurations with extremely low leakage:


This new saddle switchboard with extremely low leakage (less than one drop per minute) - is suitable for use in hydraulic load holding circuits where it can be safely used to "lock" the load or in control circuits requiring little leakage. Thanks to a service life of 10 million cycles and protection of 1,000 hours in salt spray, they can meet the most demanding operating requirements.
Like all FLeXTM series valves, the DWBF is compatible with 740 Series coils and 747 Series coils for potentially explosive atmospheres.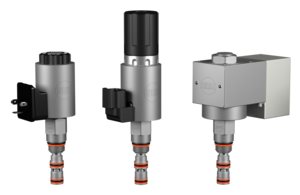 Three-way choke valve with pressure drop stabilization for flow control
Sun Hydraulics has developed a range of three-way choke valves with pressure drop stabilization that have already found their way into hydraulic hammer applications. However, the three-way choke valve with pressure drop stabilization offers a much wider range of applications - in applications where flow control is required, to control priority in directional control circuits, as a relief valve for non-regulating pumps, in applications requiring two or more functions driven by a single pump.
The Sun Hydraulics three-way choke valve solution with pressure drop stabilization offers several advantages:
high quality and durable valves made of hardened parts
significantly reduced pressure drop of Sun valves and valve blocks
zinc-nickel coating for increased corrosion resistance
a wide range of versions available for various applications
step change of maximum pressure adjustable by electric step switch
manually adjustable or electro-hydraulically controlled with XMD electronics
These new circuits provide a simple and efficient way to supply additional hydraulic circuits with hydraulic power.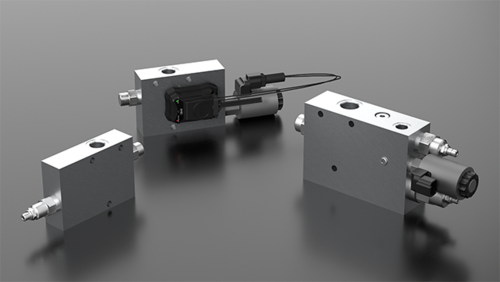 SUN Hydraulik - new technologies, new characteristics, more favorable prices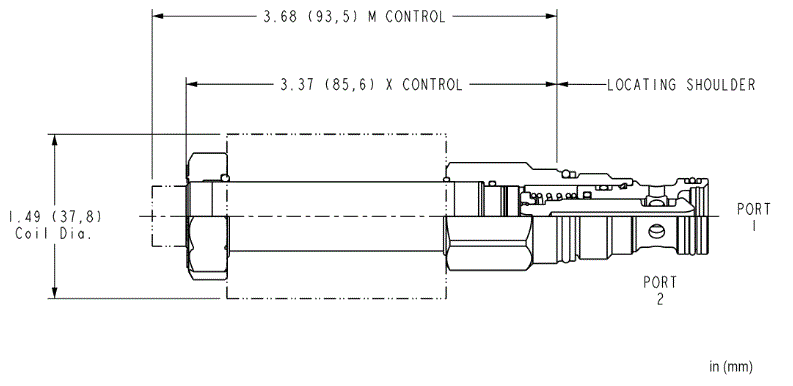 The hydraulic valve manufacturer SUN Hydraulik presents further improvements to its products, thanks to the continuous development of its technologies and the optimization of media flow geometries.
SUN extends its "family" Flex with other magnetic valves.
The new valves will gradually replace the current versions, which will be available until December 31st. 2019.
The table lists the types of new and current (outflow) valves:
The attractiveness of the new valves is guaranteed by the following improvements:
Same cavities and features that make it easy to replace.
More convenient.
Better performance.
Testing with 1 mil. cycles at max. working pressure and max. flow.
Use High-Power Coils Flex-Series 740.
Use of Flex-series 747 explosion-proof coils.
Max. working pressure 350 bar.
Standard zinc-nickel finish.
All specifications for new valve types are available at https://www.sunhydraulics.com/
Digital Logic Valve: Small solution, big results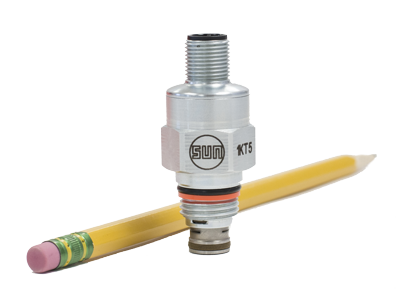 Sun has launched the industry's smallest high-speed, reduced-power logic valves — 10-ms typical response times in an incredibly small package with few moving parts. The new solenoid-operated Digital Logic Valve (DLV) family paves the way for smaller, highly reliable solutions in demanding mobile applications where size, weight, speed, and power consumption matter and in industrial applications where an incredibly fast valve can help reduce machine cycle times.
The first product introduced in the DLV family, the DLVB is an amazingly fast 2-way, 2-position, solenoid-operated directional spool valve rated up to 5000 psi (350 bar) at 0.25 gpm (1 L/min) but weighing just 2 ounces (58 g) and measuring only 2.4" high (61 mm). Because it connects to an industry-standard controller, it is a small solution looking to deliver big results in existing applications. And with a typical response time of 10 ms with reduced power consumption, it opens up opportunities to drive new high-performance designs in mobile and industrial applications.
Who doesn't want improved performance and reduced size for their fluid power applications? The DLV brings together new technology and innovative design that does just that, employing a micro-solenoid with optimized magnetics and a small, top-mounted M12 connector to drive down size and weight, simplify the wiring of the components and reducing the amount of space required for a multi-valve integrated package.
The photo below illustrates the significant advantage of the DLV over the standard DAAL 2-way, 2-position directional spool valve in an integrated package. Not only is it possible to shrink the cartridge face on the manifold by 42% in the pictured example, but with the space-saving connector/wiring configuration and the lower overall height of the valve, the space required to accommodate the total package is dramatically smaller as well. And with the proper M12 mating cable, the connector is rated to IP69K for demanding mobile applications.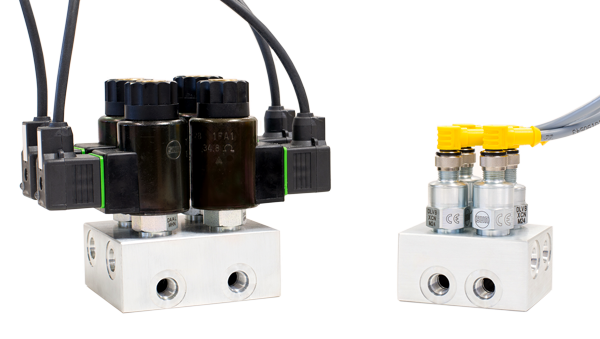 In fluid power, a "digital" valve is a two-state component that can switch states (on or off) so fast that the transition between states is negligible. Used as a logic element, the DLV — with its shift speed measured in milliseconds — can be used for directional control, pressure control, or flow control. This fast response means you can increase machine productivity with significantly reduced cycle times.
The DLVB, with 10-ms typical response time, is two times faster than Sun's DAAA and four times faster than the DAAL — both 2-way, solenoid-operated directional spool valves. Figure 1 shows the pull-in response of the normally closed DLV; Figure 2 shows the drop-out response of this normally closed valve.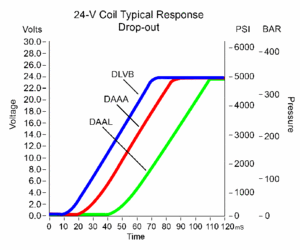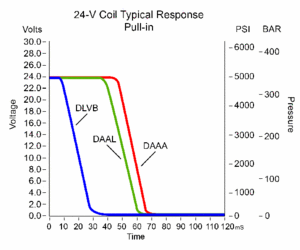 Optimized magnetics and use of a micro-solenoid means the DLV coil draws only 2 W hold and 15 W peak (typical) — up to a 90% power savings over the standard DAAL with a 22-W coil. That means the DLV offers higher performance with a lower current draw and lower heat generation.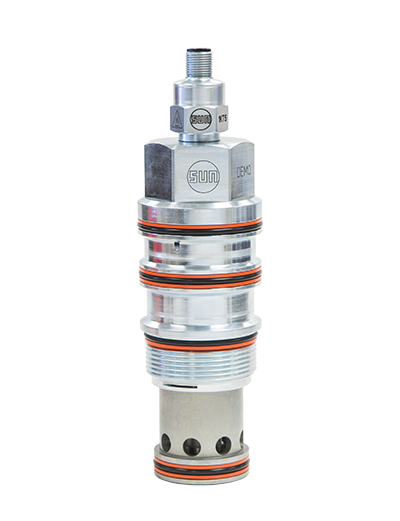 DLVB controls a DKJR8 directional valveBy leveraging Sun's own T-8A cavity concept that provides for a standard screw-in pilot for a main-stage cartridge, this small, fast DLVB can be used to build a customized control solution using standard components, opening up a wide range of opportunities for this high-performance cartridge. The photo at right shows the DLV atop a 120-gpm (480 L/min) DKJR8 directional valve.
Sun offers many standard products — including relief, directional and flow control — in a range of capacities up to 300 gpm (1100 L/min) with an integral T-8A cavity. That means this small solution can provide big results in an off-the-shelf solution. Imagine this tiny 2-oz valve controlling 875 hydraulic horsepower.
Learn more
With innovative design and few moving parts, the new Digital Logic Valve (DLV) family expands your design options and helps create smaller, highly reliable solutions where size and performance matter. A small solution that delivers big results.
This product launch includes four versions with 12- or 24-Vdc coils in a normally open or normally closed configuration. For more product specifications and related information, check out the DLVB product page.
As with any high-performance cartridge valves, system cleanliness and proper filtration is required for optimal performance, and a version of this product with a built-in filter will be available soon.
Peter Lauko
Tel.: +421 37 7777 955
Mobile: +421 903 282 644
Fax: +421 37 7777 967
Email:lp@bibus.sk
Jaroslav Tvrdoň
Tel.: +421 37 7777 954
Mobile: +421 914 336 525
Fax: +421 37 7777 967
Email: tvr@bibus.sk
Vladimír Begáň
Tel.: +421 37 7777 954
Mobile: +421 914 336 527
Fax: +421 37 7777 967
Email:vbe@bibus.sk