Food Fittings (FDA & EU), detectable
The material is approved by the FDA (FDA 21 CFR 177.2600) and complies with EU Regulation EU 1935/2004. All suckers are blue and detectable, so small parts of the suction cups that could be released will easily be discovered by cameras and metal detectors. Suction cups are also detectable and available from stainless steel (316L) or plastic food material. The fittings and fittings have a hygienic design in line with food standards. The infusions are "funnel shaped" with very thin edges, but with a more stable body / wavelet. This will allow excellent grip on food parts with irregular surfaces.
P-D suckers - For pralines and sweets, Deep, detectable (27-36 mm)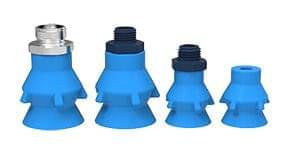 Deep groats from food contacting material (FCM) are suitable for handling pralines and sweets such as chocolates.
F-OB suction cups - Oval bellows, detectable (10x30 - 30x60 mm)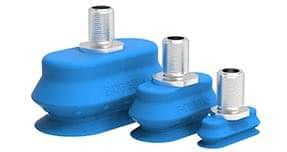 Small oval suction cups from food contact material (FCM) are suitable for handling long and narrow foods when the maximum lifting force is required.
B-BL suckers - for bakeries, bellows long, detectable (30-60 mm)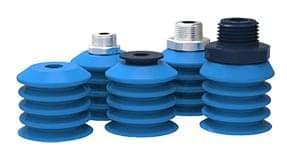 Food contact materials (FCM) suitable for handling bread and pastries.
F-BX suction cups, 2 ½ bellows, detectable (10-35 mm)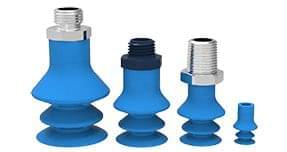 2½ bellows F-BX suction cups (FCM) have a "funnel-like" shape with very thin edges but with a stable body / bellows.

BGX suction cups are made of blue silicone approved by the FDA and the EU for direct contact with food and are suitable for applications at high and low temperatures. The suction cup can be configured between 3 sizes with a diameter of 34, 41 and 48 mm and 6 different fittings designed to be securely attached to the suction cup.
Slavomír Brath
Tel: +421 37 7777 950
Mobile: +421 903 282 393
Fax: +421 37 7777 969
Email:sbr@bibus.sk