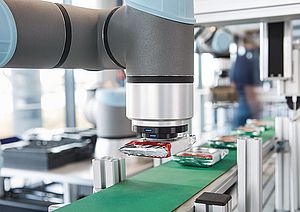 Adhesive tappers tailored for your use
The bionically inspired ADHESO gripper technology is based on the principle of adhesion and uses the intermolecular Van der Waals forces to manipulate various workpieces.
The advantages of ADHESO gripper technology are revolutionary:
Catching without any residue
Sensitive grip without mechanical force
No external power supply
SCHUNK application experts take advantage of these advantages and develop customer-specific adhesive grippers with ADHESO gripper technology. Thanks to the high variability of adhesive structures, grippers with ADHESO technology can be directly adapted to the requirements of your application.
Kristián Gyenes
Tel.: +421 37 7777 920
Mobile: +421 903 717 015
Fax: +421 37 7777 929
Email:gk@bibus.sk