Versatile light messenger from di-soric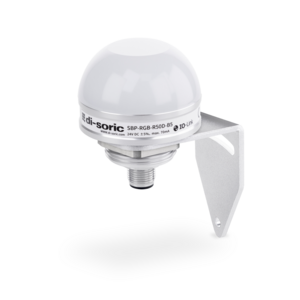 New LED signal lighting from Di-soric: easy-to-configure, flexible deployment options and flash instant use.
The SBP-RGB LED signal light system from Di-Soric with 360 ° visibility can be used in a wide range of display applications in industrial environments. This compact and robust lighting system can be configured for a wide range of color selection and signal display options depending on the specific task. It is easily configurable and quickly ready for operation thanks to the integrated IO-Link interface. Thanks to its two trigger inputs and three color presets (red - green - yellow), this energy-saving signal light is immediately ready for use right out of the box and can be operated without IO-Link.
A specialist in sensors, image processing components as well as LED lighting for machines and signals, it is expanding its existing portfolio of signal and machine lights with the new SBP-RGB LED lighting system with IP67. This individually configurable signal lighting system is suitable for a number of display, information and warning tasks in many areas of the engineering, automotive, pharmaceutical and automation industries. The signal colors as well as the signal output mode (constant, flashing, flashing) and the brightness level are freely configurable. Powerful LEDs ensure that these light messengers can be seen from all angles, even in adverse lighting conditions or in dusty environments.
Signal lighting configuration is quick and easy via the integrated IO-Link interface. You no longer have to store different lights and color modules, such as standard signal lights, which saves you the appropriate storage costs. If it is necessary to change the display mode, this can be done as soon as possible via the IO-Link interface. Alternatively, this universal signal light system can be operated without the main IO-Link port.
Di-soric's new SBP-RGB LED lighting system is cost-effective and compact: the maximum current consumption is 70 mA. The impact-resistant polycarbonate diffusion cap with a diameter of only 50 mm can also be used in applications with limited special conditions.

Kristián Gyenes
Tel.: +421 37 7777 920
Mobile: +421 903 717 015
Fax: +421 37 7777 929
Email:gk@bibus.sk