Capacitive, inductive, optical and ultrasonic sensors
Ring sensors
To separate the metal parts from the bulk material, to check the flatness of the wire,
Surface sensors
For sliding and transport equipment (conveyor belts)
Induction proximity sensors
In cylindrical or square case, with digital, analogue outputs, with connector or fixed cable for machining, packaging, transport equipment with a range of 0.5 to 70 mm - Euro sensors
Capacitive proximity sensors
For indication of non-metallic materials, control of levels, liquid and loose media
Optical sensors
In cylindrical or square sleeves
The possibility of cooperation with fiber optics
To identify different objects for a longer distance
Ultrasonic sensors
With switching, digital and analogue outputs, to measure distance up to 3 m
To indicate filling of containers up to 8 m
Control sensors up to 15 m
Laser - sensors
To indicate a greater distance
RADARPULSE - the mobile future of sensor technology from PULSOTRONIC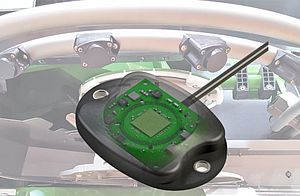 Distance - movement - area - speed - obstacle. Measurement tasks on mobile machines require robust but accurate technologies to record the environment or objects in it.
RADARPULSE sensors from Pulsotronic use FMCW radar technology in the 60 GHz band (continuous wave radar) and perform their tasks where conventional systems, such as ultrasonic or laser sensors, give up. Radar sensors, almost insensitive to environmental influences such as temperature fluctuations or contamination, allow distance measurements, distinguish between moving and non-moving objects, record speeds, locate objects on the surface or obscure background information. The sensors detect objects at distances of up to 15 m with an accuracy of up to 4 cm - in an extended temperature range from -40 ° C to + 85 ° C without significant signal deviation.
The extremely flat construction with a height of only 15 mm allows optimal adaptation to the existing outer contour without disturbing structural geometries. RADAR PULSE sensors work with an integrated antenna. Application-specific adjustments of measuring ranges or opening angles (10-140 °) can be set via the firmware interface. Optional interfaces via CAN, IO-Link or SPE (ex works) complete the universal sensor application profile; Security-related applications with IO-Link security interfaces are also planned in the near future.
The sensory performance of RADARPULSE sensors predestines them for use on agricultural machinery, industrial trucks, construction machinery or in the field of current flow monitoring and as part of fleet management systems.
Kristián Gyenes
Tel.: +421 37 7777 920
Mobile: +421 903 717 015
Fax: +421 37 7777 929
Email:gk@bibus.sk