Calibration of flow meters at the highest level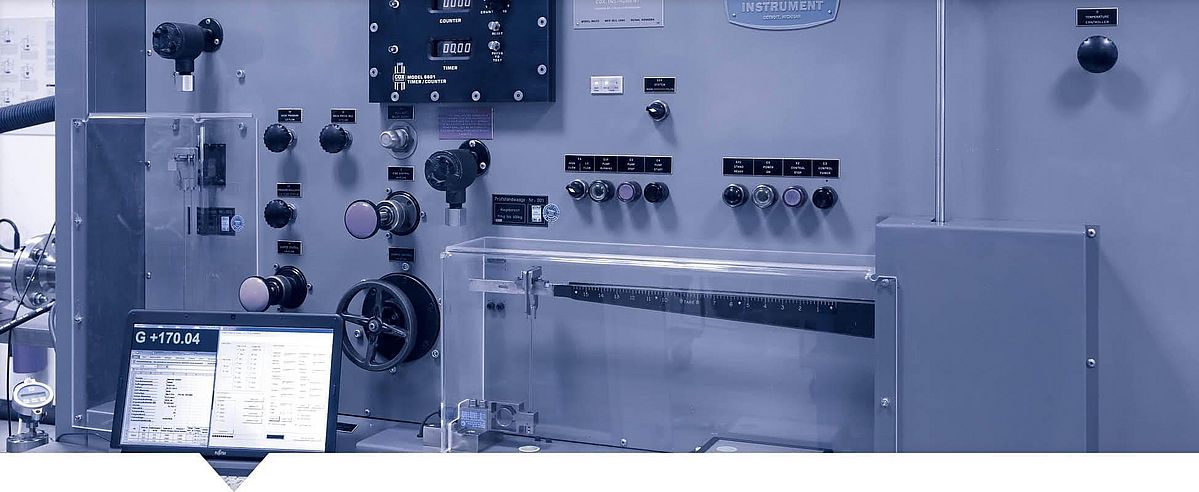 Since 1994, KEM has been performing its own calibration at the highest technical level on its flow meters. The Calibration Laboratory works with a highly accurate weighing system. With an accuracy of 0.05 percent for the weight and 0.1 percent for the volume of liquid fluids, KEM occupies a leading position throughout the world. The German Accreditation Body (DAkkS) has accredited a laboratory with engineers, processes and measuring equipment according to the international standard according to DIN EN ISO / IEC 17025: 2005. Calibration is a professional method for obtaining accurate and usable precision measurement information. Calibration is performed with different hydrocarbons - a unique feature of the KEM calibration stand. This ensures optimal simulation of changing operating conditions in density, direction of flow and viscosity even in temperature changes. Therefore, if viscosity variations occur within a customer-specific application, the predominant viscosity for the use of the flowmeter may be deliberately taken into account.
Even national testing laboratories use calibrated KEM flow meters to make a world-wide comparison of the accuracy of their equipment abroad
In addition to the calibration of its own products, KEM also offers calibration services for various flow meters in Bad Kötzting. Most flowmeters from customers of this service are intended for use in the automotive, pharmaceutical, food, aerospace, biotechnology or general measurement industries. The individual detailed calibration record not only documents the accuracy of the flow meter, but also guarantees traceability to the customer according to national standards.
The advantage for the customer is that all the requirements of the relevant international quality standards are met.
DAkkS-Accreditation
Viscosities up to 100 mm² / s
Mass and volume flow rates from 0.016 to 2.000 l / min
Density from 650 to 1,000 kg / m3
Messgenauigkeit 0,05 bis 0,1% vom Messwert
KEM Calibration Service
DAkkS-Zertifikat für Kalibrierung
Zertifizierung nach verschiedenen Standards
Calibration for different grades of viscosity up to 3,000 mm² / s
Volume flow rates from 0.002 to 20.000 l / min
Special Calibration on Demand
Benefits
Highest accuracy of calibration
Traceability according to national standards
Internationally Recognized Results and Documentation (Calibration Certificate)
Practical calibration (dynamic weighing method)
Fast delivery times for calibration

Mass flow meters (KCM/TCM)
Mass flow meters for all types of liquids.
Measuring ranges from 4.5 kg/h to 60,000 kg/h and pressures up to 350 bar.
Coriolis mass flowmeter electronics KCE 5000
Coriolis mass flowmeter electronics KCE 8000
TRICOR mass flowmeter
Volumetric flow eg for PU components, paints flow measurement, metering equipment, measuring fuel consumption, suitable for hydraulic oil.
Measuring range from 0.005 to 1.000 l/min.
Typical viscosity range 5 - 25,000 mm²/s
Gear Flow Meters standard (ZHM-ST)
Gear Flow Cartridge (ZHM-CT)
Ball bearings Gear Flowmeters (ZHM-KL)
Gear flow meters aluminum version (Zha)
Dosing device (DCD)
Gear flowmeters for high pressure applications (ZHM-HP)
Gear flow meters for testing equipment, oil, chemical injection (ZHM 01/3)
Measurement of flow of water, oils, fuels, chemicals, and cryogenic liquids or liquefied gases.
Measuring range from 0.03 to 48,000 l/min.
Typical viscosity range 0.5 - 100 mm²/s
Turbine flowmeters (HM) - General overview / measuring principle
Turbine flowmeters flange connection (HM-F)
Turbine Flowmeters with thread (HM-R)
Turbine flowmeters Ermeto connection (HM-E)
Turbine Flow Meters for Pharmaceutical Applications (HM-FT)
Turbine flowmeters for solvents (HM-TCR)
Turbine flowmeters for high pressure applications (HM-HP)
Turbine flow meters for temperature control circuits (HM-P)
Turbine flow meters in aluminum (HM-U)
Flow measurement PU components, adhesives and sealants, grease, oil, petrochemical products, etc.
Measuring range from 0.01 to 400 l / min.
Typical viscosity range 1 - 1,000,000 mm²/s
Spindle flow standard (SRZ)
Spindle with double-flow sensor (SRZ-Compact)
Screw flowmeters with ball bearing (SRZ-KL)
Flowmeter for Additives, pharmaceutical liquids, aromatic liquids, liquefied gases, demineralized water, liquid food, two and three-component applications ...
Measuring range: 0.005 to 0.25 l/min.
A typical viscosity range of 0.5 - 2 mm²/s
Measurement of turbidity (KPS)

Sensors for measuring turbidity are used for optimization of industrial processes in the food industry, chemistry, pharmacy.
Measurement of turbidity (KPS)
Plunger operated switches
switching voltage 48 V
switching current max. 0.5 A
switching power 10 W/VA
protection class IP 67
temperature range -30…+120°C
Kristián Gyenes
Tel.: +421 37 7777 920
Mobile: +421 903 717 015
Fax: +421 37 7777 929
Email:gk@bibus.sk