Barksdale Intelligent Transmitters
Barksdale, a leading manufacturer of industrial sensors, is pleased to announce the release of its first family of digital pressure transducers with the HART® communication protocol: BiT series. Our new BiT, short for Barksdale Intelligent Transmitters, my last product line: 450X Series, with explosion-proof enclosure, designed for hazardous area applications in the oil and gas industry; and the 450 series, which is designed for testing and measuring high pressure and for general industrial use.

The BiT 450 and 450X Series are part of our new range of high pressure transmitters designed with advanced electronic and sensor technologies to maintain stability, reduce downtime, maintenance costs and calibration. They offer 24-standard pressure ranges from vacuum to 30,000 psi (2,000 Bar), more electrical and process connections, and high accuracy of up to 0.1% FSO (including linearity, hysteresis and repeatability). Both BiT product lines offer three basic models: 1) 4-20 mA output with HART® communication protocol, 2) 4-20 mA output, 3) 1-5 VDC output with optional self-voltage output up to 10 VDC.

The BiT 450 and 450X Series with HART® protocol provides additional information beyond the normal process variable. They offer diagnostics, device status, and other calibration options, including remote range and zero settings. The HART® communication protocol provides all this information digitally without any changes to the existing 4-20 mA wiring pair. The digital signal is placed on a 4-20 mA current loop and is supported by all major PLC manufacturers by simply updating the I / O module.

In addition to the HART® capabilities, the BiT 450 and 450X series have increased the bar for precision and stability with thin film scanning technology that provides long-term stability and high accuracy. The long-term stability of thin film technology extends the time between calibration intervals, reducing maintenance costs and maintaining accuracy between calibration intervals.

"For more than 35 years, Barksdale has been successfully designing and delivering solutions for pressure transducers," said Barksdale vice president, oil and gas, Tarun Shivlani. "For our new BiT, we have utilized our extensive expertise in pressure transducer design and combined it with the globally accepted HART® protocol standard to produce a high-performance stainless steel transmitter that is smaller than competitors in its class."

BiT 450X Series are explosion-proof models that provide protection against explosion hazards to meet North American, European and international standards certified by CULus, ATEX, IECEx and Single Seal. The explosion-proof housing is welded of stainless steel and has IP66 and IP67 and NEMA 4X protection. Typical applications for the 450X series include offshore control panels and other oil and gas processing and production equipment.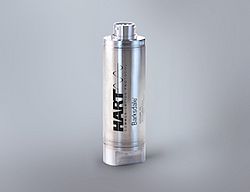 Kristián Gyenes
Tel.: +421 37 7777 920
Mobile: +421 903 717 015
Fax: +421 37 7777 929
Email:gk@bibus.sk