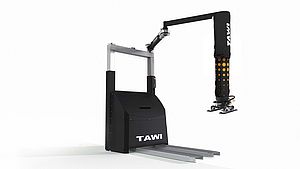 A unique solution for mobile material handling and picking from pallet racks. Simply lift the mobile unit with any forklift or pallet truck and go wherever you need to go.
Load capacity: <80 kg
Compatible with any forklift or pallet truck
Height adjustment: 500 mm, electronically driven
Battery: 24 V DC 180 Ah
Battery charging time: 8 hours
User-friendly on-board control panel
EasyReach provides extended reach to pallet racks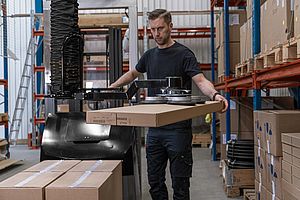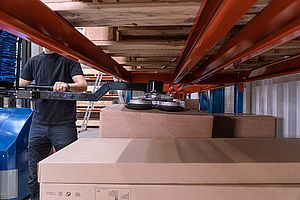 Order picking forklift for intelligent warehousing logistics
Taking orders on the go has never been easier! TAWI Mobile OrderPicker is compatible with any type of forklift, LLOP or pallet truck and allows you to effortlessly pick up goods using a vacuum jack.
Streamline your order picking workflow by connecting a TAWI mobile picking device to any type of forklift or LLOP. Drive from the pallet rack to the pallet rack to effortlessly remove the boxes and place them on the pallet before moving on to the next rack.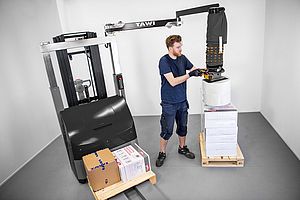 Use with any forklift
The unit is compatible with all types of forklifts, so you can move around easily. When moving the unit, the safety lock holds the boom arm securely in place. Press the button to start the integrated vacuum pump and the support legs are automatically activated, ensuring safe and stable lifting. Starting the pump also automatically releases the safety lock on the boom. One push of a button and you're ready to start picking goods.
Pick up anything and anywhere
TAWI Mobile OrderPicker is equipped with a vacuum jack mounted on the articulated arm of the boom. Depending on the required lifting capacity, different models of vacuum suction cups can be used and the boom arm can handle up to 80 kilogram loads. The articulated arm offers a large range of motion with a work surface with a diameter of 4 meters. Electronically controlled height adjustment allows the unit to easily adapt to different lift heights and height limits. It is a lifting aid that you can adapt to your requirements and thus ensure an efficient work procedure, safe for both operators and goods.
Efficient use of warehouse and picking orders
The EasyReach tool on your TAWI Mobile OrderPicker allows for optimal efficiency in order picking and warehousing utilization. EasyReach reaches the pallet racks and allows the operator to lift effortlessly. Thanks to the weight distribution of the tool, the operator can stand comfortably in the aisle when lifting the box from the rear end of the pallet. You don't have to bend to reach the stand or have to lift in an awkward position. There is no risk of injury or unnecessary strain on the worker.
With EasyReach, you can easily pick up goods stacked right next to the shelf above it, allowing you to make optimal use of storage space. It is no longer necessary to store bulky and heavy goods outside the pallet racks.
Ján Plavák
Tel.: +421 37 7777 923
Mobile: +421 903 575 748
Fax: +421 37 7777 928
Email:jpl@bibus.sk