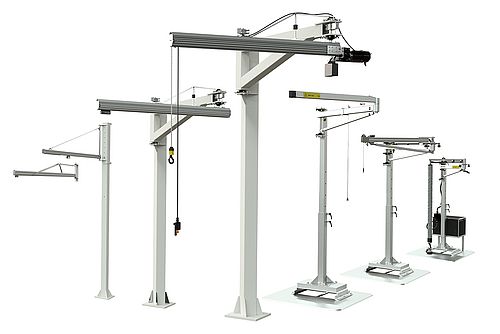 Cranes with great potential.
Mechcrane - includes a wide range of flexible crane or wall cranes. Cranes can be equipped with a wide range of lifting equipment. Load capacity up to 250 kg and standard working ranges up to 5 meters allow the cranes to adapt to almost all requirements and environments.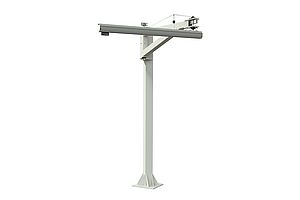 The construction of the crane arms is based on the track profiles of the Mechrail railway system. In this way, a wide range of standard accessories is produced and the shape of the profiles allows the installation of various additional devices. The profiles are of course anodized and maintenance-free.
The Mechcrane range also includes a range of articulated cranes of various sizes. Some versions include an integrated string connector. The jack is mounted on the rear end of the outer arm, which minimizes rotation effort and facilitates handling throughout the work area, including the area near the pole.
The Easycrane crane is a universal articulated mast crane with an integrated vacuum manipulator for quick and easy handling. This lifting device is intuitively controllable and user-friendly. It allows handling of loads of various sizes, shapes and weights.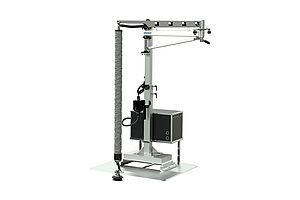 Flexible articulated mast crane with integrated vacuum manipulator
The Easycrane ™ crane is a complete stand-alone lifting device for quick and easy lifting. Thanks to the generous range and adjustable column height, it can be adapted to most workstations. The use of a mobile base and an ordinary hand pallet truck will allow the Easycrane crane to be easily moved between workstations.

The Easycrane crane offers many benefits
quick and easy lifting of loads up to 45 kg
No installation is required when using the mobile base
Loads can be gripped horizontally and vertically and can be rotated freely
Large selection of different types of suction cups and vacuum handling elements
quick connection for easy replacement of suction cups or tools
Typical uses are for lifting cardboard boxes, bags, panels, barrels, furniture, etc.
By combining the smooth flow of the Mechline Pro pneumatic balancer and the versatility of an articulated mast crane, we have created the Mechline Pro Crane crane - a flexible lifting device for various industries.
Pro Crane
Universal mast crane with articulated arm.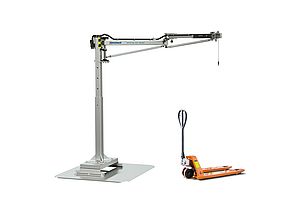 With a reach of up to 4 meters and an adjustable mast height, the Mechline Pre Crane ™ can be adapted to any workplace. The use of a mobile base and an ordinary hand pallet truck will allow the Mechline Pre Crane to be easily moved between workstations.
The air supply is integrated in the crane arm and allows the supply of compressed air to the pneumatically operated fixture. The crane is galvanized, maintenance-free and, as with the original Mechline Pro pneumatic balancer, we offer various pneumatic configurations.
Ján Plavák
Tel.: +421 37 7777 923
Mobile: +421 903 575 748
Fax: +421 37 7777 928
Email:jpl@bibus.sk