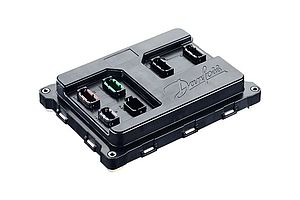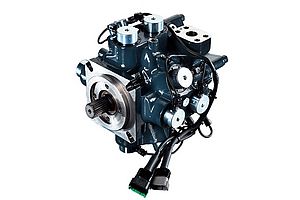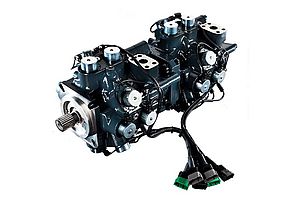 Digital Displacement® Pump
Digital displacement is a new revolutionary hydrogenerator based on the principle of a radial piston hydrogenerator. The cooperation of the Danfoss Digital Displacement® hydrogenerator (DDP096) with the control unit (DPC12) offers the hydrogenerator with the highest efficiency on the market.
The DPC12 control unit controls each piston individually using On / Off valves, which changes the geometric volume of the hydrogenerator. This achieves the required flow quickly and accurately. DDP096 has high efficiency and very low idle losses.
Features and benefits of DDP096 and DPC12 include:
Radial piston hydrogenerator with exceptional efficiency even at partial load
Geometric volume 96 cm3
Working pressure up to 420 bar
Low power losses at idle, even when the hydrogenerator is under pressure
Direct digital control

Fast response, small hysteresis of geometric volume
CAN-bus interface with power monitoring and control and monitoring of diagnostic information, adjustable parameters

Virtually no oil leakage at zero flow
From zero to full geometric volume (or back) in 3/4 turn (24.7 ms at 1850 rpm)
Possibility of several independent outputs from one hydrogenerator, possibility of a continuous shaft for tandem needs
Peter Lauko
Tel.: +421 37 7777 955
Mobile: +421 903 282 644
Fax: +421 37 7777 967
Email:lp@bibus.sk
Jaroslav Tvrdoň
Tel.: +421 37 7777 954
Mobile: +421 914 336 525
Fax: +421 37 7777 967
Email: tvr@bibus.sk
Vladimír Begáň
Tel.: +421 37 7777 954
Mobile: +421 914 336 527
Fax: +421 37 7777 967
Email:vbe@bibus.sk