DDC-regulating axial piston hydrogenerators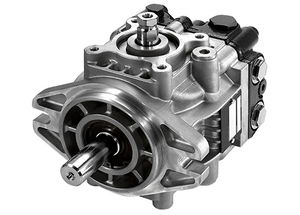 DDC is a control axial piston hydrogenerator with an inclined plate in a closed circuit with direct control of the swing plate.
DDC uses proven technology that allows it to operate reliably in less demanding applications. Its design provides a number of optional accessories that give machine designers a great deal of flexibility. Its compact size allows installation in confined spaces.
DDC is a high-quality, lightweight hydrogenerator that offers excellent functionality, great overall efficiency, low noise and easy installation. It is suitable for lawn care applications, compact utility tractors, small harvesters and rollers, saw drives, mowers and other agricultural vehicles.
Features:
Geometric volume of 20 and 24 cc in one development
Wide speed range 500 to 4500 rpm
Maximum pressure 345 bar
Compact, lightweight construction (aluminum body)
Integrated safety valves
Integrated boost pressure relief valve
Flush slider with flush valve
Bypass valve
Filling hydrogenerator
Different shaft designs
Mounting flanges for tandeming
Danfoss MP1 Medium power power hydrogenerators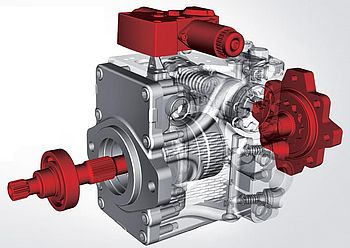 More than 40 years, Danfoss has been developing and producing cutting-edge parts and systems for mobile machinery. Danfoss has become a recognized supplier offering high-quality products.
The MP1 Series Hydrogen - the future is here. And this is just the beginning of a new generation of regulating hydrogenerators into a closed circuit. The MP1 Series is designed on the basis of years of experience in the field, which has resulted in high reliability, long service life, great modularity and excellent maneuverability of these hydrogenerators. Everything has yet to achieve great compactness and minimal dimensions. All electrical controls are compatible with the Danfoss PLUS + 1® controllers platform - this provides rapid development and implementation of customer control.
Basic properties

Designed to achieve high quality and high reliability
a uniform concept across all sizes of hydrogenerators ranging from 28 to 45 cm3
single-piece hydrogenerator body -minimalisation of leakage probability (oil flow) a technologically advanced cylinder block and a servo system
low friction bearings for precise control with low hysteresis and high repeatability
Increased overall efficiency
increased efficiency of the hydrogenerator
lower pressures needed for control - lower own consumption
Management options
electro-hydraulic control are EDC (electrical proportional to mechanical feedback) and FNR (forward / neutral / reverse)
manual control of MDC (mechanical feedback with mechanical feedback)
common servoventiles across all sizes
Modularity
joint servo feeders, filling hydrogenerators and auxiliary mounting flanges across all sizes
simple and fast conversion to the required configuration
Sauer-Danfoss axial piston pumps closed-loop medium pressure
For middle drive power
nominal size 45; 53.8 cm³/U
pressures to 400 bar
broad electrical controller program
For middle drive power
nominal size 25; 35; 44 cm³/U
pressures to 400 bar, with direct control
pressures to 350 bar, with manual, hydraulic and electrical control
For middle drive power
nominal size 28; 41; 51 cm³/U
pressures to 400 bar
with manual, hydraulic and electrical control
For middle drive power
nominal size 25; 30; 35 cm³/U
pressures to 350 bar
with direct control
Performance, power density and functionality are standard features of our medium power axial piston pumps and motors for the diverse off-highway mobile market. We have the displacement, configuration and control option to suit your specific application.
The application of integral servo control technology equips our H1, M46 and Series 42 pumps perfectly for intelligent system design.
Alternatively, Sauer-Danfoss offer pumps based on direct displacement control technology, including an innovative built-in neutral return assist mechanism that saves on space, reduces noise and extends useful life.
Integral servo pumps (H1, M46, S42)
Direct Displacement Control pumps (M25, M35, M44, LPV)
Compact, low-weight pump and motor family for complete system designs
Pumps available in stand-alone single or integral tandem configurations
Direct displacement control and integral servo control technologies, ideal for remote manual, hydraulic or electrohydraulic control
Displacements available from 25-53.8 cc/rev for optimum application flexibility
Application Opportunities
Try our solutions on your aerial lifts, skid steer loaders, vibratory rollers and forklift trucks and more...
Peter Lauko
Tel.: +421 37 7777 955
Mobile: +421 903 282 644
Fax: +421 37 7777 967
Email:lp@bibus.sk
Jaroslav Tvrdoň
Tel.: +421 37 7777 954
Mobile: +421 914 336 525
Fax: +421 37 7777 967
Email: tvr@bibus.sk
Vladimír Begáň
Tel.: +421 37 7777 954
Mobile: +421 914 336 527
Fax: +421 37 7777 967
Email:vbe@bibus.sk