Modular armrest 225MA midi from Elobau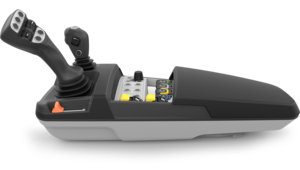 Adapted as standard - with the new modular armrest 225MA, elobau sets a new standard on the world market. This premium product opens up entirely new opportunities for all mobile machine manufacturers who are no longer satisfied with their existing operator controls
State-of-the-art technology and perfectly ergonomically designed operator controls have been the standard that all mobile machine manufacturers have to achieve for years. With this configurable multifunctional armrest, everyone can benefit from our long-term expertise in functionality, ergonomics and design

Sustainable: 75% of used plastics are biofuel based
Safe: safety level AgPL c (ISO 25119)
Practical: Storage compartment with USB charger for smartphones
Conforms to standards: Compliance with Mothers Regulations (EU 167/2013)
Plug & Play: CAN Bus (SAE J1939)
Clearly designed: colors, symbols and functional and night lighting
The DANFOSS JS1-H joystick family offers a long service life and a wide portfolio of ergonomically designed, modular components that are fully in line with the DANFOSS PLUS + 1® platform. The JS1-H delivers intelligent solutions, security, reliability and high performance. This ensures that all operators of required tasks are efficiently, well and accurately executed.
The DANFOSS JS1-H joystick family offers versatile solutions for mobile machines such as wheel loaders, bulldozers, dumpers for construction machines and asphalt pavers, graders, rollers, mowers in the road machinery market.
Customer Benefits:
Customized solutions
Various JS1-H electronics options, along with various lever options, enable customers to meet specific customer requirements for smooth, comfortable and reliable operation. There are three types of electronics (CAN, Analog and PVE) and five types of ergonomic levers with flexible roller, button and switch positioning.
Interchangeability
The mutual compatibility of levers and electronics makes the JS1-H joystick easy to upgrade. There are six standard electrical interfaces to easily reach the desired solution.
Excellent performance
The JS1-H is suitable for almost every machine that requires electronic joystick control. Compliance with the DANFOSS PLUS + 1® platform enables simple and seamless integration of JS1-H joysticks into the machine's control system.
Options:
sensor

Hall effect with redundancy
long-life potentiometer

simultaneous operation of multiple proportional functions
Operator Presence switch - the "dead" man button
the number of operating axes of the lever

uniaxial
biaxial
unisex with locking

electrical output options:

CAN J1939
CANopen
PVE
CANalog
CAN +
Analog Category 1 or Category 3

ergonomic lever

for the left hand
for the right hand
universal (for right and left hand)

JS1-H lever
Peter Lauko
Tel.: +421 37 7777 955
Mobile: +421 903 282 644
Fax: +421 37 7777 967
Email:lp@bibus.sk
Jaroslav Tvrdoň
Tel.: +421 37 7777 954
Mobile: +421 914 336 525
Fax: +421 37 7777 967
Email: tvr@bibus.sk
Vladimír Begáň
Tel.: +421 37 7777 954
Mobile: +421 914 336 527
Fax: +421 37 7777 967
Email:vbe@bibus.sk