PLUS + 1 control units and expansion modules in standard version or version with increased operational safety

12 pin
24 pin
38 pin
50 pin
88 pin
90 pin

joysticks

The various embodiments of the holder (GRIP) and Electronics
and proportional output ON / OFF output, key staff on ...
analog
CAN

Pedals
Display and Camera

monochrome
colorful
different size and resolution
analog and digital inputs and outputs

Sensors

pressure
temperatures
revolutions
SASA steering directional sensor
angle, position and angle

Software

PLUS + 1 GUIDE software for custom programming control units
ready blocks and modules to facilitate software work
software blocks used Danfoss components (sensors for temperature, pressure, ...)
DANFOSS - MC018 high current control unit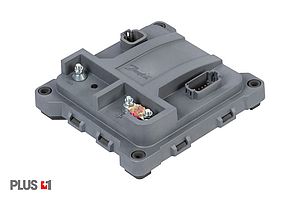 The new Danfoss MC018 high-current control unit provides machine and equipment manufacturers with enough energy to control several applications simultaneously up to a total current of 120 A continuously.
Safety is a top priority - to meet this requirement, the MC018 has a separate power supply for the logic partition, which allows fault detection and communication even in the event of a fault in the power section of the control electronics. Thus, the control unit is still able to send diagnostic information to the higher-level control unit, even in the event of a short circuit or blown fuse.
The PLUS + 1® High Current control unit uses a 32-bit Cortex-M3 processor, which provides extremely high duty cycle speeds.
Users develop applications for the MC018-130 using PLUS + 1® GUIDE - GUIDE is a user-friendly, field-proven graphical programming tool that is based on Microsoft Windows.
Features:
User programmable with PLUS + 1® GUIDE (Graphical User Integrated Development Environment)
18 pin control unit: 2x DEUTSCH connector (DT and DTP), 2x 6 mm screw
12-bit analog-to-digital converter
ARM 32 bit Cortex-M3 with a frequency of 120 MHz
4x entrance

2x universal user-defined input (DIN, AIN, FreqIN; Rheost)
1x universal user-defined input (DIN, AIN)
1x universal user-defined input (DIN, AIN, CAN shield)

8x output

4x universal user-defined output (PWMOUT, DOUT, PVGOUT) up to 15A
4x universal user-defined output (PWMOUT, DOUT, PVGOUT) up to 25A
Power supply 9 to 36VDC with a maximum current of 120A
Operating temperature -40 to 70 ° C
DANFOSS - CS10 wireless gateway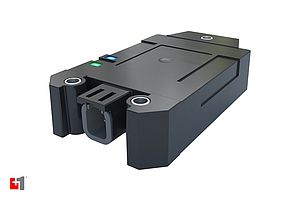 CS10 is a wireless gateway. It is designed by safety experts for the severe operating conditions common to mobile work machines.
The CS10 is a rugged and secure wireless device that allows machines with a CAN system to monitor local or remote machine settings and settings. CS10 is a wireless replacement for a wired gateway, such as CG150. CS10 also allows the creation of a wireless connection between two devices - the creation of so-called bridge.
Secure data encryption and flexible device APIs further increase reliability and integration with existing applications.
Features:
Wi-Fi access point and client
Bluetooth 4.2 with DLE
Bluetooth peripheral LE
CAN Flexible baud rate (50,100,125,250,500,1000 Kbps)
supports v4 and v6 internet protocol
creation of remote device connection - bridge
delayed shutdown function to maintain a wireless connection
support J1939, KWP2000, UDS
LE Secure connections with the Just Works pairing model
resistant to mechanical damage
visual indicators of power supply, Wi-Fi connections, Bluetooth connections, CAN connections
ready-made customer solution - Plug and Perform
programmable with PLUS + 1® GUIDE
IP67 protection (with connected connector)
the internal memory allows the recording of operating data
Position sensors for mobile hydraulics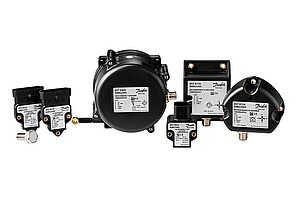 Danfoss takes functional safety to the next level with a complete range of state-of-the-art sensors:
angle
position - cable sensor
tilt
Individual types of sensors are manufactured according to the PL d standard (EN ISO 13849-1: 2015), thanks to which the entire portfolio is suitable for "critical applications" in terms of safety.
For more than 30 years, Danfoss has been supplying reliable, durable and cost-effective sensors. Thanks to a complete range of sensors, Danfoss covers all types of mobile machines. These sensors provide machine builders with unrivaled flexibility to meet safety and environmental regulations.
Properties
Hall technology (angle and cable sensors)
MEMS technology (inclination sensors)
With single output or redundant
Output - CANopen, SAE J1939 or raciometric
Protection: IP67 - IP69K with connecting connector
Directional control of machines using joysticks
DANFOSS offers a wide range of joysticks for both mobile and industrial applications, including joysticks for controlling mobile machines.
DANFOSS PLUS + 1® software has an upgrade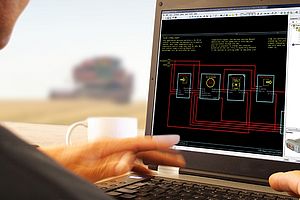 The latest version of PLUS + 1® GUIDE and Service Tool
In early June, Danfoss released the latest version of PLUS + 1® GUIDE along with the Service Tool.
"We continue to work on the same principles that were applied to PLUS + 1® 17 years ago - fast, easy and open," said Kevin Faulds, Software Sales Manager at Danfoss Power Solutions. "The drag-and-drop architecture of PLUS + 1® GUIDE helps programmers in their work to bring intelligent vehicles to the market faster."
Particular enhancements include an image editor that adds resolution and size variability by keeping constant aspect ratios completely independent of the source. Further user experience enhancements create the consistency and modern look of the PLUS + 1® product range. In addition, Service Tool and GUIDE have been improved to be even more intuitive and clear.
Version 11.1 includes a choice of German or Chinese. All these updates are combined to provide customers with a more intelligent and comprehensive programming tool and help them create complex software solutions through a simple interface.
Danfoss also introduced a new and improved PLUS + 1® Update Center - an associated system that manages application and library downloads.
Overall, the latest version allows our customers to accelerate the design of their mobile machines by providing easier navigation, multilingual support and shorter development time.
DANFOSS Video - PLUS +1 Service Tool
Setting machine parameters in control units with Plus +1 Service Tool
DANFOSS Electronic Torque Limiting ETL
Save fuel and increase productivity
Danfoss Series 45 Hydro-Generator with Pressure / Flow Compensator (PCLS) and Electronic Torque Limiting (ETL) increases the system pressure proactively and automatically up to available engine torque, preventing engine stalling. This complete solution offers a way to differentiate your product through simplified operation, fuel economy and increased productivity.

The ETL system brings demonstrable advantages:
productivity gains of up to 22% compared to alternative torque controllers
up to 34% more material per liter of fuel
reduction of consumption by up to 16%
Peter Lauko
Tel.: +421 37 7777 955
Mobile: +421 903 282 644
Fax: +421 37 7777 967
Email:lp@bibus.sk
Jaroslav Tvrdoň
Tel.: +421 37 7777 954
Mobile: +421 914 336 525
Fax: +421 37 7777 967
Email: tvr@bibus.sk
Vladimír Begáň
Tel.: +421 37 7777 954
Mobile: +421 914 336 527
Fax: +421 37 7777 967
Email:vbe@bibus.sk