Piab adds a new size of 65mm to the line of bellows suction cups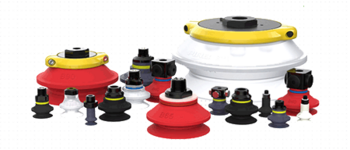 Piab expands its range of bellows suction cups with suction cups with a diameter of 65 mm, further expanding its already wide range of applications. The new suction cup size is the latest of the four new sizes added to the popular bellows suction line. Recently, suction cups 13, 26 and 90 mm have been introduced.
The new bellows suction cups are available in four different materials - Nitrile (NBR), HNBR and two types of silicone. Standard quality silicone is used for bellows suckers used in the plastics and packaging industries, and alternative food silicone is offered for suckers used mainly in the food industry where hygiene standards set by the US (FDA 21CFR177.2600) and / or the EU (EU 1935/2004) must be respected. ).
In addition, piab added additional fitting for several existing bellows suction cups, and the entire series of bellows suction cups was also included in the popular online customer configurator.
Slavomír Brath
Tel: +421 37 7777 950
Mobile: +421 903 282 393
Fax: +421 37 7777 969
Email:sbr@bibus.sk