Two-hand safeCAP control from CAPTRON.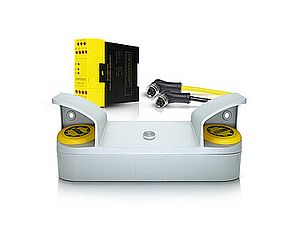 Safe operation of machines and systems.

CAPTRON is considered a pioneer of the first capacitive two-hand steering with the highest safety category (cat. 4) and PL e according to DIN EN ISO 13849-1. Capacitive two-hand control "safeCAP" enables pressureless and safe operation of heavy machines and systems with a high risk of injury in the automation of production such as. from pressing and punching.

To start the machine, the user presses two capacitive buttons that are connected to the safety relay. The system detects incorrect or inattentive switching with only one hand or another part of the body and the machine does not start.

CAPTRON offers two-hand safeCAP control with additional protection elements, such as a protector or control panel for table mounting. These combinations increase protection and are certified according to DIN EN 574. Dynamically switching SENSOR switches detect interfering factors such as dirt, dust or foreign bodies. However, it is possible to press the buttons with disposable or work gloves.

The fully electronic design of the SENSORswitch is specially designed for everyday continuous use without fatigue and impresses with its extreme durability, reliability and robustness. The user receives visual feedback via 16 bright LEDs per button.For a wide range, CAPTRON offers individual advice on the optimal selection of the right products in accordance with the required specifications, certifications and applications.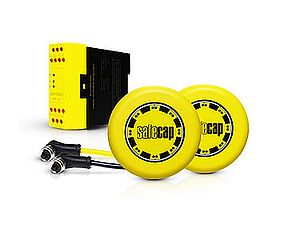 SC4 SET Basic
Description:
SafeCAP buttons A and B and safety relay

Two buttons (SCA4, SCB4)

Safety relay MCR-225

Two connecting cables (LKW-SCA, LKW-SCB)
APPLICATION: Punching / Squeezing
Optical feedback
green LED (ready for operation)
red LED (switch)
100% waterproof and oilproof - IP69K
The sensor is completely encapsulated by a special resin
No effort
Very easy to use and wrist protection
Kristián Gyenes
Tel.: +421 37 7777 920
Mobile: +421 903 717 015
Fax: +421 37 7777 929
Email:gk@bibus.sk