Lead-free cable glands from JACOB.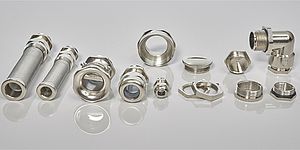 LEAD-FREE - WHAT'S NEXT IN ROHS?
The lead exemption will remain in the RoHS for some time to come. The Öko-Institut prepared a study to assess exception 6 (c). It is recommended to end the exception by July 21, 2026.
Since then, the previously permitted lead content of brass up to 4% will be banned in all product categories.
The European Commission will discuss this recommendation and draft a new "delegated law" (delegated guideline) in the course of 2022. A decision on whether to extend or terminate Exemption 6 (c) is expected in December 2022.
WE CONTINUE ...
... because the subject is important to us.
We have now implemented 170 components for our JACOB cable glands and lead-free brass accessories. This is an ongoing process, so more articles will be added over time.
We recommend - especially for new applications - to specify lead-free components today or at least plan them as an alternative for the future. In this way, it is possible to perform a step-by-step transition later without stress.
We will be happy to provide you with the necessary technical data. Of course, we also advise in person, by phone or online. Simply send us an e-mail with your request for contact to automation@bibus.sk
Kristián Gyenes
Tel.: +421 37 7777 920
Mobile: +421 903 717 015
Fax: +421 37 7777 929
Email:gk@bibus.sk