PICK-BY-LIGHT BUTTON WITH SELECTION INDICATOR by Captron.

The entire handling process is ergonomic and particularly safe thanks to the pick-by-light buttons with a large round display. Buttons that can be used to display quantities and confirm processes via an integrated touch button guide employees intuitively and significantly more productively through the handling process.
All functions of the control display and LED ring can be conveniently adapted to the requirements of production and warehouse. The buttons communicate the stock volume fully automatically via a controller called SENSORhub. The intelligent self-diagnosis function ensures the system against malfunctions and thus eliminates the need for regular maintenance.
Properties of smartCAP buttons
SMC46 with printed symbol
SMC47 with 7-segment display
Possible profile and surface mounting
Capacitive touch button - Very easy to use even with gloves
Long touch function to report e.g. defects, errors or fillings
More than 100 million switching cycles
100% waterproof and dustproof (IP69K / Nema 6P)
REACH, RoHs, UL 60950 certified and NRTL compliant
SMC46 + datasheet for download
SMC47 + datasheet for download
New high-performance capacitance buttons from CAPTRON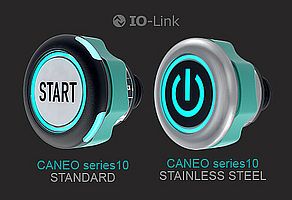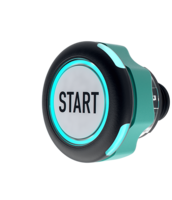 Key features of the CANEO series buttons 10
IO-Link capable

360 ° visibility / Perfect visibility of button state through 4 side light spots /

Adaptive Brightness / Button brightness is automatically or manually adjusted to ambient light /

Water insensitive / No trigger when sprayed or cleaned with water (button only on CANEO series10 stainless steel /

Plastic and stainless steel / both convincing visually and haptically /

Free choice of symbols / Individual design of symbols and pictograms /

Capacitive sensor technology / Touch switch /

Impact-resistant vandal resistant / Sensing surface cannot be destroyed by flame or impact /

Extremely long lifetime / Several 100 million switching cycles /
Plunger operated switches
switching voltage 48 V
switching current max. 0.5 A
switching power 10 W/VA
protection class IP 67
temperature range -30…+120°C
Kristián Gyenes
Tel.: +421 37 7777 920
Mobile: +421 903 717 015
Fax: +421 37 7777 929
Email:gk@bibus.sk