BoT Transducer - The next generation of digital pressure transducers from Barksdale.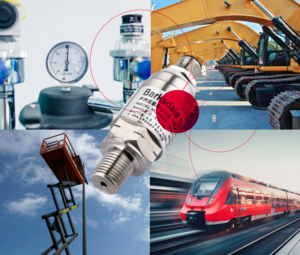 With the BTX series of pressure transmitters, Barksdale offers almost endless possibilities for configuring standard options or developing fully sophisticated solutions for your individual application. The BoT pressure transmitter exactly meets your requirements for monitoring and controlling gas supply systems or mobile hydraulic equipment and vehicles.
Characteristic:
Large measuring range from 0 to 600 bar (accuracy up to 0.25% with piezoresistive sensor)
Durable 316 and 17-4 stainless steel construction for excellent corrosion resistance
Overpressure protection up to 23 times the nominal value for protection against water shock and cracking
Heat compensated sensors ensure high accuracy over a wide temperature range to minimize thermal errors in sensitive components
Long-term reliability with more than 10 million print cycles
Industry certifications and regulatory standards (CE, IEC, NEMA, UL, REACH, RoHS)
Modular design platform to support fully customizable pressure ranges, mechanical or electrical connections and other specific application needs.
How can Barksdale best support you - with a standard version or a custom solution? We are at your disposal.
Kristián Gyenes
Tel.: +421 37 7777 920
Mobile: +421 903 717 015
Fax: +421 37 7777 929
Email:gk@bibus.sk