CAPTRON two-hand contactless controllers of the SC4 series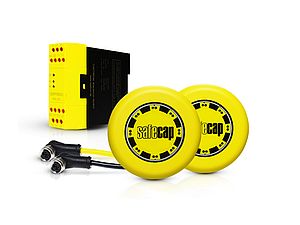 CAPTRON-Two-hand-safety-control-safeCAP-SC4-Set-Basic
The capacitive two-hand safety controls of the SC4 series enable safe and pressureless control of heavy industrial automation machines and systems and meet the strictest safety requirements of category 4 according to PL e according to DIN EN ISO 13849-1.

CAPTRON supplies the SC4 series in the Basic, Protect and Complete series. Additional safety elements, such as a guard or control panel, also protect against external influences and meet all requirements for two-hand safety controls according to DIN EN 574.

Capacitive two-hand safety controls are specially designed for everyday, ergonomic long-term use and provide extreme durability, reliability and robustness. The contact surface has a diameter of 63 mm, which makes it very large and easy to use. The user receives optical feedback via 8 red and 8 green LEDs.
CAPTRON can provide you with individual advice that will allow you to choose the perfect product for your required specifications and applications. Contact us: CAPTRON service.
Important features
100% water and oil resistant
Protection class IP69K, completely sealed in casting resin
Extremely long service life
More than 100 million switching cycles
Impact resistant - robust
Degree of protection IK08 cannot be destroyed by lighter flames and blows to the switch surface
Checking foreign objects
Recognizes obstacles
Contamination control
Detects contamination
Touch sensor
Maximum ease of use, effortless, effortless on the wrist
Safety certificate
According to PL e (DIN EN ISO 13849-1)
The CAPTRON safecap is a recently developed intelligent proximity sensor replacing the use of the mechanical sensor with two-hand control within control category 4 of safety level III-C.
Touch control
No muscle power, no pressure
Extensive service life
Highly shock-resistant, robust
Foreign matter control
Soiling control
100 % water- & oil-proof
BG - certified
Kat. 4, EN 954
Type III-C, EN 574
CE
Kristián Gyenes
Tel.: +421 37 7777 920
Mobile: +421 903 717 015
Fax: +421 37 7777 929
Email:gk@bibus.sk