Frequency converter from WEG CFW500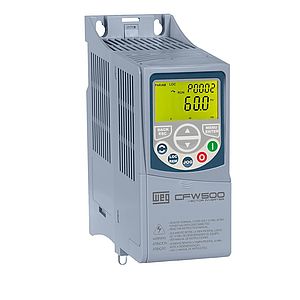 With a modern design and power in the range of 0.25 to 75 cv, the CFW500 frequency converter is a high-performance variable speed converter that helps control the speed and torque of three-phase induction motors. The device offers a vector without sensor, a vector with coding or scalar control mode, permanent magnet motor control, SoftPLC, which adds PLC (Programmable Logic Controller) functions, safety functions STO and SS1, Pump Genius, which brings special pumping functions, and optional plugs in modules that provide a flexible and optimized solution for each application.
Main characteristics:
Output current from 1.0 to 105 A (0.25 to 75.0 cv);
Single-phase or three-phase supply voltage 200 - 240 V or 380 - 480 V;
Scalar control (V / F), vector control (VVW), sensorless vectors or vectors with encoder control and permanent magnet motor control (VVW PM);
Optional plug-ins; -Plug and Play philosophy;
Built-in operating and programming interface (HMI);
Built-in RS485 port (in any selected plug-in module);
Pump Genius: functions designed to drive pumps;
Safety function: STO and SS1 level SIL 3 / PLe; -SoftPLC - built-in -PLC functions;
IGBT braking (available from frame B);
Protection class 3C2 or 3C3 for use in environments with corrosive chemicals;
Protection IP20 (standard) and NEMA1 (optional);
Fan with quick-change system;
Internal RFI filter (optional);
USB communication port (accessory CFW500-CUSB);
Free WLP and WPS software application available in Softwares software.
Kristián Gyenes
Tel.: +421 37 7777 920
Mobile: +421 903 717 015
Fax: +421 37 7777 929
Email:gk@bibus.sk