SilentCare - Air filtration in interiors quietly and efficiently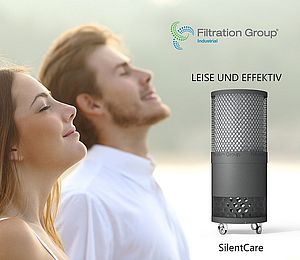 Quiet and efficient
Effective indoor air filtration from:
VIRUSES, BACTERIA, HARMFUL SUBSTANCES AND FINE DUST PARTICLES.
SilentCare
Benefits
Extremely quiet operation (43 db (A)) without drafts.
Quick and efficient removal of airborne harmful substances such as viruses, bacteria and pollen.
HEPA filter in class H14 according to EN1822 (Filters at least 99.995% of harmful substances in the range 0.1 μm - 0.3 μm)
Compact and modular design.
Multi-stage operation allows individual adaptation to the surrounding situation.
Areas of application
Areas with a high concentration of people
Office space
Meeting rooms
Residential buildings
Schools, Universities, Nurseries
Viliam Moravec
Tel.: +421 37 7777 953
Mobile: +421 903 720 733
Fax: +421 37 7777 968
Email:vmo@bibus.sk