Free-wheel couplings and feedback brakes Stieber would like to introduce you to the news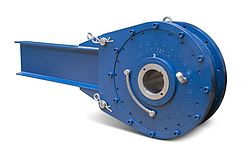 The STIEBER RDBR-E reversing cap is directly mounted on the drive shaft, high-performance conveyor belts, drum mixer drives and chain conveyors when torque limitation / load sharing or release function is required.
The RDBR-E is equipped with a roller-type reverse-engined design with a full bearing multidrive-braked torque limiting function.
The optional release function allows you to loosen the tension of the looped belt. As soon as the brake is fully open, the ability to move unrestrictedly backwards enables safe and easy maintenance.

To activate the release function, you can use a simple hydraulic hand pump or power supply. Mechanical release is available on request.

A special sealing arrangement with a sealing labyrinth sealing ensures the highest reliability under harsh conditions. Recommended shaft storage is H7 / f6. The torque arm must not be firmly attached to the base.
Endless number of types of freewheels and one-way bearings

Stieber was founded in Munich in 1937 and its main activity is the design and manufacture of drive components for engineering engineering systems.
The freewheels and one-way bearings provide one-way rotation in the desired direction. The size of the load is given by the transmitted torque.
One-way bearings have a ring structure adapted to allow them to rotate in one direction only. They are used for a variety of applications - As free-standing mechanisms, unidirectional drives to prevent reverse, stepping devices, and the like.
With Stieber, unique solutions have been found over the years, such as:
Closed loose clutches lubricated and cooled by internal oil circulation without the need for a pump.
Loose couplings that can be released manually or pneumatically.
Irreversible units. This is the original use of the free clutch principle and more than 3,000 special designs developed for specific customer requirements. Anything from 0.8 to 1.7 million Nm can be added.

Ball bearing ball bearings: They are integrated into ball bearings with dimensions and performance ranges 62 ... They are full life grease packs and can be installed inside or outside the cabinet (manufactured in cover versions, with grooves or without a groove for the pen K ..- 2RS or KN ..- 2RS). Bearings with ball bearings

Loopholes without saving: do not have their own storage. They are located inside enclosed enclosures (gears, shutters, etc.) in addition to existing bearings. The external and internal components must be perfectly aligned with each other; they must not be axially loaded or prestressed. The lubricant supply must be secured. Freeholds without saving.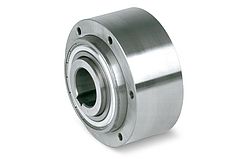 Closed enclosures: they have bearings: sizes 8 ... 20 with sliding bearings, size 25 ... 60 with ball bearings. They are mostly mounted inside closed enclosures. The lubricant supply must be secured. Closet enclosures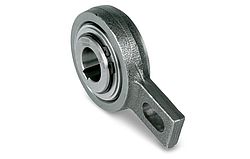 Slide bearings with sliding bearings: They are mounted in sliding bearings with grease for lifetime. They are installed as an anti-reverse or as a switching element from the outside of the input or output shafts, the lever arm welded to the external components captures the torque.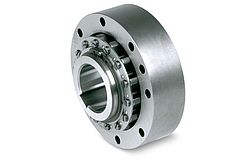 Sprockets for sprockets: they have spherical roller bearings. These freewheels provide, together with a wealth of flanges, flanges and elastic couplings that can be delivered, a complete unit with its own lubricant circulation. They are mostly located outside the cabinets, e.g. In sprockets or pulleys, at the end of the shaft.
Overrunning clutches and backstops
We have an unmatched ability in the field of overrunning clutches, built on the long experience of our team of qualified engineers and always seeking the best answers in design and manufacture. Along-side a continuous programme of product development unique solutions have been found over the years including:
Encased overrunning clutches lubricated and cooled by internal oil circulation without the need for a pump
Overrunning clutches that may be disengaged either manually or pneumatically
Irreversible locks. A novel adaptation of the freewheel principle
And more than 3,000 special designs developed for specific customer requirements. We can supply anything from 0.8 to 1.7 million Nm so you can be sure of finding the best solution, whatever the application.
Overrunning clutches are directional couplings, which mean they are engaged and disengaged automatically, depending on the relative direction of rotation of the driving and driven sides. Practical applications of this principle:
Overrunning clutch for multiple-machine drives or to separate the inertia of masses of a driven machine from the driving machine after it has been switched off.
Indexing clutch which turns a shaft step by step, thus achieving indexed material feed or a variable speed.
Backstop to prevent a machine shaft turning backwards. In this case the overrunning clutch acts as a brake.
Patrik Kemlage
Tel.: +421 37 7777 957
Mobile: +421 914 336 528
Fax: +421 37 7777 968
Email:kem@bibus.sk