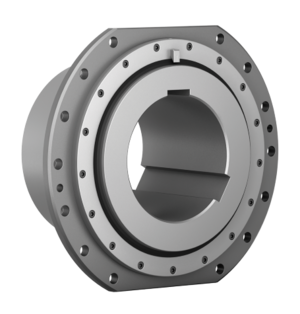 The high-quality RINGFEDER® cylindrical couplings of the TNK series are used in cranes and hoists for the optimal connection of the gearbox drive shaft with the cable drum.
Other areas of application are lifting platforms, platform hoists and conveyors of all kinds.
RINGFEDER® TNK couplings are torsionally rigid, easy to install and maintain, and effectively compensate for axial and radial shaft misalignments.
They offer frictional torque transmission via hardened steel roller rollers that fit into semicircular, machined hub and bushing holes, ensuring safe and reliable resistance to bending loads and radial forces.
Basic features:
Torsionally rigid coupling, compensates for angular and axial shaft misalignment
Torque transmission by means of hardened steel cylinders in the shape of a cylinder
Equipped with a wear indicator
External diameters up to 850 mm
Diameter of holes up to 425 mm
Torques up to TKmax = 815,000 Nm
Maximum radial load Frad = 490 000 N
Patrik Kemlage
Tel.: +421 37 7777 957
Mobile: +421 914 336 528
Fax: +421 37 7777 968
Email:kem@bibus.sk