50 years of experience and innovation in energy transfer.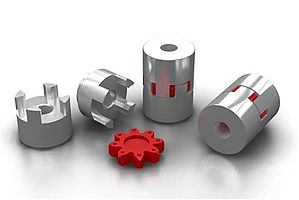 Sit S.p.A., an important member of the Scaglia group, founded almost 200 years ago in Bergamo, has a 50-year history of producing and delivering power transmission products.
These experiences bring innovative design and reliable high quality products that are certified by iSO 9001, AteX and ROhS certifications.
Sit Trasco® connectors consist of two metal hubs and a flexible star element that is resistant to oil, chemicals and temperature. This design enables safe transmission of power between drive and driven shafts, absorbs impact loads and torsional vibrations.
The high degree of use of Trasco® couplings is due to the fact that the elastic element operates under pressure and never under the bend. They are suitable for both horizontal and vertical operation and are easy to handle any fluctuations or reversal loads. They are also suitable for use in potentially explosive atmospheres and can be manufactured in accordance with ATEX guidelines.

SIT Trasco® flexible couplings
SIT's Trasco flexible couplings consist of two metals hubs and an elastic gear ring which is resistant to oil, chemical agents and heat. The construction allows safe power transmission between driver and driven shafts, absorbing impact loads and torsional vibrations.
In its class SIT Trasco® coupling transmits more power in relation to the physical space occupied. Moreover, the elastic deformation of the polyurethane gear rings compensates angular and radial misalignments and also absorbs small shaft length variation. The involute profile of the gear ring teeth prevents high stress concentration on reduced surfaces and the crowned profile avoids the transmission of axial stress.
The high duty factor of trasco® couplings is due to the fact that the elastic element works under compression and never under flexion. Trasco® couplings are suitable for working in both horizontal and in vertical positions and easily support any load variation or reversal. The two couplings halves are electrically insulated from each other.
SIT Trasco® couplings can be supplied according to ATEX DIRECTIVE 94/9/CE designed for areas endangered by potentially explosive atmospheres.
The following models are available in the SIT Trasco® couplings range:
GR execution - Standard execution
GRB execution - Taper bush execution
GRCAL execution - For use with SIT-LOCK® 8 locking elements
GRL execution - Shaft execution
GRL CAL3 execution - Shaft execution for use with SIT-LOCK® elements type 3
GRF execution - Flange execution
GRF C execution - Compact flange execution
GRS execution - Double cardanic execution
GRFRT and GRFRD execution - Drum brake and disk brake execution
Patrik Kemlage
Tel.: +421 37 7777 957
Mobile: +421 914 336 528
Fax: +421 37 7777 968
Email:kem@bibus.sk