LED lights for workplaces, machines and industry
LED2WORK GmbH manufactures high-quality lighting solutions with the latest LED technology for optimal lighting of demanding visual tasks on machines or industrial workplaces.
The company's product range includes LED workplace lights, LED machine lights, LED industrial lights and custom-made LED products. LED lights are manufactured directly in the company or at permanent, long-term partners in Germany - LED2WORK means German processing at the highest level
LED2WORK articulated luminaire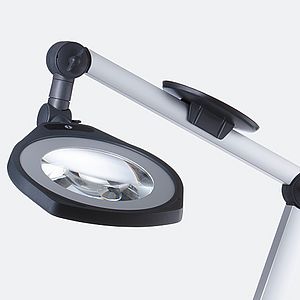 https://www.led2work.com/fileadmin/user_upload/uploads_2019/en_Arbeitsplatz_LENSLED_II_EN.pdf
LENSLED II
Elegant, precise, powerful

LENSLED II is a lamp with a magnifying glass par excellence. Developed for stationary use in assembly or inspection workplaces, the LED articulated arm with magnifying glass can be placed as desired thanks to the aluminum spring arm.

The extremely scratch-resistant lens is made of glass and offers a magnification of 1.85x. The high-intensity illumination of the magnification area is shadowless and glare, and the illumination intensity can be adjusted with infinitely variable dimming.
YOUR BENEFITS
Plastic glass lupine, extremely scratch resistant with a strong magnification factor
Magnification light, direct, without glare or flickering
High light ring around the lens and aluminum spring arm can be rotated and locked
Constant variable dimming with memory function
Wide selection of mounting options
FIELDS OF APPLICATION
In manual labor, manufacturing and industry
Goldsmiths' workshops
Dental laboratories
Craftsmen's workshops
Assembly and inspection workstations
Quality control
Zhromaždenie
Testing / inspection stations on machines
TECHNOLOGY
High power LED chips for constant daylight 5700K
Beam angle 120 °, very wide beam illumination
Very high color Ra> 90
Luminous flux: powerful 2000 lm with a consumption of only 23 watts
Constant variable dimming with memory function using a membrane keyboard on the head
Blue head with 3D head joint, glass line in a light with opalescent cover of LED chips
Magnetizing head with 3D head joint, glass lens in light ring with opal white cover for LED chips
Laser glasses, Ø 160 mm, extremely scratch resistant with 1.85x magnification (optional as biconvex lens with additional recessed bifocal Ø 31.5 mm, 8 dpt)
For use at ambient temperatures from -10 ° C to + 40 ° C
Head: Aluminum LED back heat dissipation support
IP40 degree of protection and service life> 60,000 h (L70 / B10)
110–240 V Universal power supply, lens cover and mounting base are included
Additional accessories for various mounting options: e.g. wall bracket or bracket for T-slot profiles
36-month maintenance-free warranty
Manufacture in Germany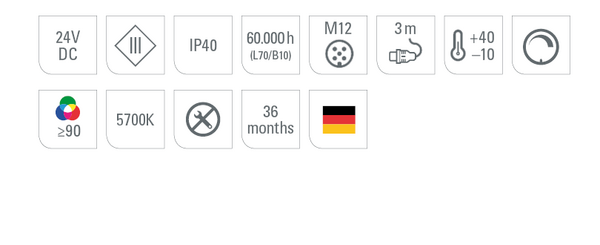 Lighting solutions for the food and beverage industry by LED2WORK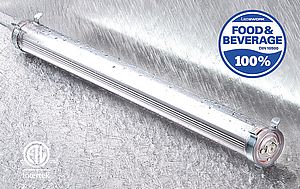 Chemical-resistant, chip-free and with separate stainless steel brackets, LED2WORK with INROLED_25 and INROLED_50 offers ideal lighting for the food and beverage sector. For food manufacturers, the packaging industry and the corresponding machine and equipment design, LEDs are an economical and powerful lighting in the manufacturing environment. All lights are made from materials recommended by the FDA. Each luminaire is completely enclosed in a chip-free tube made of polycarbonate and is resistant to chemicals and has a degree of protection IP69K or additionally IP67. In this way, the LED chips are sealed against the fine-grained ingredients to be processed or against temporary immersion, such as strict hygienic cleaning of industrial plants in the food environment. Therefore, chemical resistant materials and adhesives, such as acids and bases, are used to foaming the system (tested using a foaming agent with an alkaline, Acigel acid and Divoform SMS liquor). During homogeneous, flicker-free lighting, the accessory LED lights are permanently dimmable and illuminate without a switch-on delay. The electrical connection can be made using the 24 V DC machine voltage. LED lights are already successfully used by large food and beverage companies in sensitive food dispensing and packaging areas.
Work lamps UNILED II from LED2WORK at reduced prices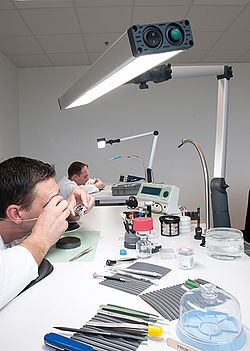 UNILED II work lamps are for people who appreciate light without glare, without the shadows in their work. Constant flicker-free light supports work in locations that require very good lighting, such as assembly lines, labolators or jewelery and watchmaking.
The articulated arm of the light is ideal for any workplace, as the light can be flexibly positioned where necessary, using a high quality aluminum spring arm and a 3-D-arm. Versions are available in two different power levels (Power and ECO) as well as a choice between daylight-white or natural white.
Kristián Gyenes
Tel.: +421 37 7777 920
Mobile: +421 903 717 015
Fax: +421 37 7777 929
Email:gk@bibus.sk