Electrak® HD – Linear Actuators, Drives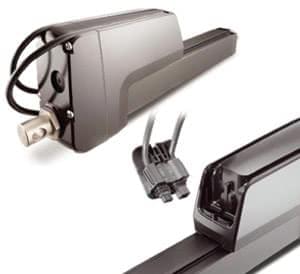 With Thomson products we offer a wide range of actuators and actuator systems with wide lifting capabilities and loads for a wide range of applications. Our actuators are designed to provide the best and most reliable performance for industrial and precision applications and for both light and heavy duty loads, combined with our AC and DC drive portfolio and various engine combinations. If necessary, you can equip the actuator with your own engine.
Electrak® HD - Smarter, stronger, longer
In addition to the advanced controls, Electrak HD offers 50% more capacity, 60% longer strokes than previous designs and is faster than competitive at comparable costs.
The new design also opens up a wider range of hydraulic applications for electrical conversion.
Electrak HD offers intelligent design solutions such as integrated wiring, integrated connector, and manual switching on each servo drive.
load up to 10 kN
stroke up to 1000 mm
speed up to 40 mm / s
IP69K
temperature range -40 ° C to + 85 ° C
12V or 24V
integrated CAN bus control
Accurate metering and easy positioning
excellent price / performance ratio
replacement of hydraulic cylinders
working machines and intervention vehicles

Ján Plavák
Tel.: +421 37 7777 923
Mobile: +421 903 575 748
Fax: +421 37 7777 928
Email:jpl@bibus.sk