Complete solutions for gas management systems from Aris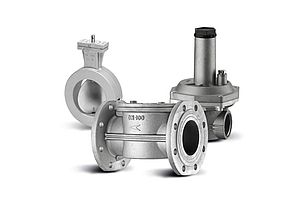 Safety and functionality are given the highest priority by gas control lines. The user must be able to rely on the perfect quality of the fittings used. Therefore, each fitting must be perfectly aligned with the fitting that follows it. The right combination of individual components, such as shut-off valves, gas filters and pressure regulators, leads to a safe gas control system. Complete solutions from a single source offer practical benefits, as the customer receives a gas management system in which all product components are coordinated with each other. For more than 40 years, ARIS Stellantriebe GmbH has been an expert in the development of innovative rotary and oscillating actuators, as well as valve and linear actuators, which are individually planned in close cooperation with the customer until they are ready for series production and in-house.
The company's products have also been used for decades in the field of industrial combustion and the construction of industrial furnaces. To this end, the Troisdorf-based company has so far primarily supplied automated control valves for various sections of gas pipelines. In order to offer comprehensive services at the moment, ARIS now delivers customized complete solutions. The company offers a range of gas volume control valves, ball valves, flexible connecting pipes, expansion joints, gas filters, safety shut-off valves and other high-quality fittings. The range also includes overflow valves, solenoid valves, pressure switches, pressure gauges, burner controls, ignition transformers and valve test systems, which are suitable for permanent use in gas control systems.
Kristián Gyenes
Tel.: +421 37 7777 920
Mobile: +421 903 717 015
Fax: +421 37 7777 929
Email:gk@bibus.sk