Bansbach Easylift - Easystop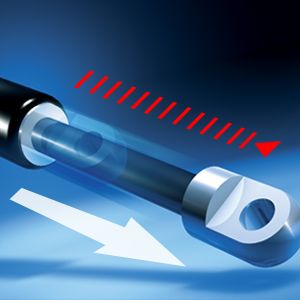 Thanks to the special valve technology (in the retracting direction), Easystop gas springs offer a retaining force that allows any position adjustment. The lock is applied in the set position until the additional force (eg by hand) releases the valve and thereby releases the lock. There is no need for an external release system ...
In the extension direction, this model behaves like a standard compression gas spring, which assists in lifting the load. The spring force selected (relative to the weight of the load) should ensure that the spring does not start to spontaneously.
Easystop gas springs are available in two versions. The adjustable model (BY) is particularly suitable for the design phase to determine the necessary holding force. By turning the piston rod in the extended state it is possible to adjust the value up to max. 800N.
For orders with a larger number of pieces, it is recommended to use the non-adjustable model (BX) after specifying the required holding force.

Bansbach easylift GmbH has prepared its new main catalogue.
In it you will find the most up-to-date information about the production range of this company with a tradition longer than 100 years.

Bansbach offers compression gas springs (standard or exactly as required), tension gas springs, locking compression and tension gas springs, shock absorbers, stainless steel gas springs, accessories for gas springs (ends, fittings...), column systems, hydraulic pumps for adjustment heights (tables, beds...), mirko hydraulic rollers, electric linear motors...
Peter Lauko
Tel.: +421 37 7777 955
Mobile: +421 903 282 644
Fax: +421 37 7777 967
Email:lp@bibus.sk