Movimech rail systems - Mechrail
Light rail system – an easy and smart way to improve your handling!
The system is based on aluminium profiles. By using extruded aluminium profiles we gain many advantages. The shape with slots and flanges gives the profiles maximum torsional strength and also large carrying capacity. The systems can be combined for loads up to 1000 kg. At the same time the profiles have very low dead weight, which makes the system very easy to handle.

Through smart suspensions and a series of smooth-running guided trolleys you can easily build complete systems. The profiles can be extended through a unique joining technique, and it's simple to extend and complete the system. Several slots on the sides of profiles LHB and AHB simplify the mounting of various accessories. As a result, elegant individual solutions can be created at low costs. The profiles are of course anodized and completely maintenance-free.

The light weight profile PHB is specially produced for rapid light weight handling. The aluminium rail supplies excellent stiffness in relation to its extremely low dead weight. Low weight and roller bearing mounted trolleys make sure that PHB cranes can be moved rapidly but still softly even in intensive and repetitive handling.

There are a number of alternative suspensions depending on the building construction. The rail system can either be mounted in the ceiling structure, direct-mounted or by pendulums at important ceiling heights, or alternatively onto a for the purpose designed floor-mounted steel structure when roof-mounting for different reasons is no option.
Professional aluminum crane system
Mechrail ™ is a professional aluminum crane system that improves the working environment of world-class automakers as well as mechanical workshops. Thanks to a comprehensive range of accessories, the options are endless in adapting the crane system to every workplace and need.
Movomech launched the Mechrail crane system 30 years ago, and the product line has been constantly expanding and expanding since then, in line with technological developments in industry and customer needs.
New profiles 2018!
Since autumn 2018, the product line has two new series of profiles:
AHB140 and AHB190!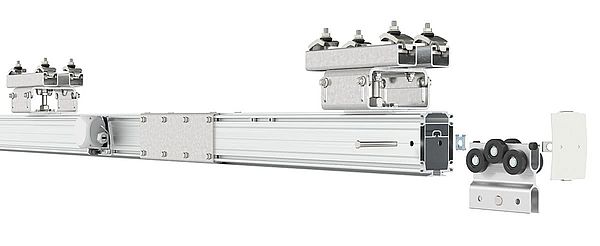 The classic Movomech crane light system has been updated with a whole new profile series: AHB140 and AHB190, which together with an updated range of accessories makes Mechrail even more sophisticated! In the product series, new profiles will replace AHB1.1 and AHB2.
Ján Plavák
Tel.: +421 37 7777 923
Mobile: +421 903 575 748
Fax: +421 37 7777 928
Email:jpl@bibus.sk