Flexible jib cranes for all types of lifting from Movomech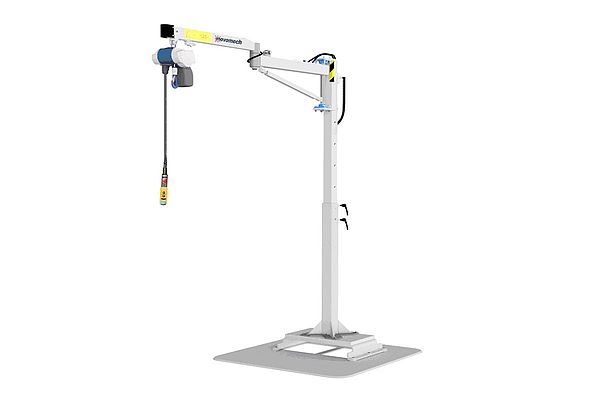 MobiArm ™ is an ergonomic articulated jib crane that can be adapted to any workstation with a range of up to 4 meters and a height-adjustable floor column.
With or without a mobile platform
The flexible design of MobiArm ™ is combined with the lifting device of your choice. Add a mobile platform and you can easily move MobiArm ™ between different workstations - a simple hand pallet truck is all it takes!
Several versions
MobiArm ™ can be supplied in different designs and installed in several different ways:
on a mobile platform
right on the floor
on the wall
on a tower with a fixed tower
on a column with an adjustable tower
MobiArm ™ is equipped with an articulated arm with a length of 2 to 4 meters. Arm rotation uses low friction bearings, making it very smooth and easy to use. The adjustable tower can easily be adjusted to the desired height, which is an advantage at workstations where the equipment needs to be adapted to different handling operations.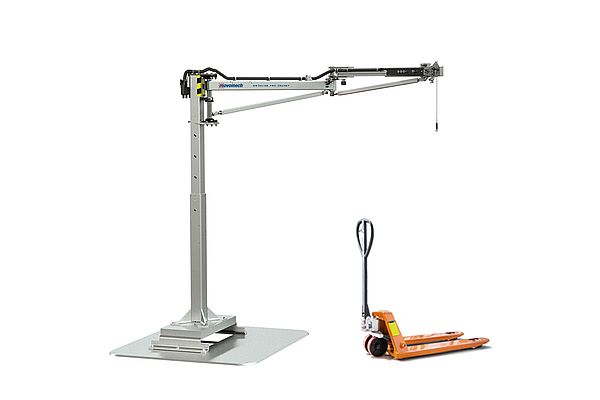 Articulated jib crane with integrated pneumatic balancer
Mechline Pro Crane ™ - By combining the smooth lifting of the Mechline Pro ™ with the versatility of the articulated jib crane, we have created a flexible lifting solution for many different industries.
Mobile platform for unlimited flexibility
Mechline Pro Crane ™ can be adapted to any workstation with a range of up to 4 meters and a height-adjustable floor column. Add a mobile platform and easily move Mechline Pro Crane ™ between different workstations - a simple hand pallet truck is all it takes!
Integrated air supply
The air inlet is integrated into the lift arm and allows air to be connected to the connected pneumatic end effector. The boom is electrically galvanized and maintenance-free. In addition, as with the original Mechline Pro ™, various pneumatic configurations can be offered.
CHARACTERISTICS OF THE PRODUCT
Intuitive lift sensation up to 50 kg
You can move between different workstations using a hand pallet truck
Anodized surface
Durable lifting wire that can be used for up to 300,000 duty cycles
Adapted to pneumatic or mechanical end effector
Integrated air supply for gripping tools
balancer with 2 or 3 weights or direct control with speed handle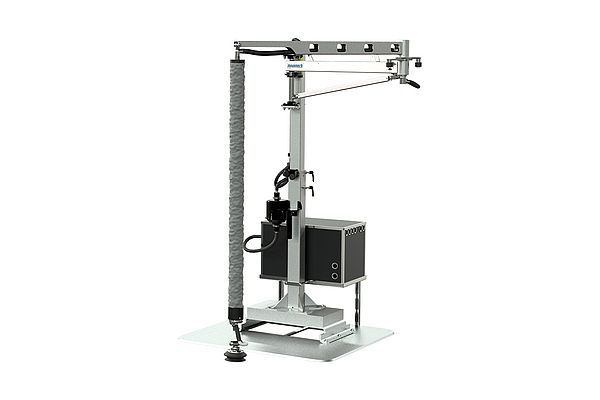 Flexible articulated jib crane with integrated vacuum pump
Easycrane ™ is an intuitive and easy-to-use lifting device for quick and easy lifting. Easycrane ™ consists of a flexible articulated boom crane with a vacuum pump integrated into the outer arm. With different suction cups it can lift loads of different sizes, shapes and weights.
Customizable for most workplaces
Thanks to the wide range and height-adjustable floor column, it can be adapted to most workplaces. Add a mobile platform and easily move Easycrane ™ between different workstations with a simple hand pallet truck.
Lift different objects
Common lifting applications are cardboard boxes, bags, panels, barrels, furniture and more.
Easycrane ™ offers many benefits!
Fast and easy lifting of loads up to 45 kg
No mobile installation required
Loads can be gripped horizontally or vertically and rotate freely
Large selection of suction cups and vacuum calipers
Quick connection for easy replacement of suction cup or tool
Ready for use
No installation work required
Indoor usage (recommended)
Used with a variety of high capacity vacuum gripper tools
Vacuum operated by compressed air
Clean and dry regulated air
Vacuum safety features including VMS Vacuum Monitoring
System and AVSG-Accidental Vacuum Shut-off Guard
On-board batteries and Battery Charger MOBI-Crane can be
operated while connected to 110V/AC
Electric motor lift operation
Grippers modified for customer specific load handling
Quiet operation
Adjustable lift/lowering speed
MobiCrane is a mobile crane device designed for handling sheet material, sacks, boxes and bespoke products up to 85kg. The crane is built in various parts and adaptable to changing needs. You can build the MobiCrane of your own choice. MobiCrane consists of a wide range of modula parts, fixed or adjustable towers in diffrent heights. Select floor plate, round, square or mounted direct in the floor. The articulated arm is available in various lengths, choose length according to your needed work area. MobiCrane mounted on a floor plate is very easy to move around in the workshop with a standard hand pallet truck.The lifting is made by un electrical motor, controlled with the buttons on the handle. The motor control makes the lifting speed, it can easily be adjusted as needed.
MobiCrane acts as a separate entity and is self-sufficient with maintenance free, rechargeable batteries or connected to standard electrical outlet. The equipment can be used with compressed air connection for vacuum. Size, design and model as needed.
Ján Plavák
Tel.: +421 37 7777 923
Mobile: +421 903 575 748
Fax: +421 37 7777 928
Email:jpl@bibus.sk