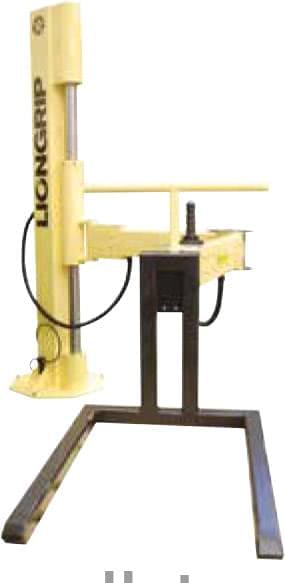 The Swedish company Hofpartner AB has developed a new type of manipulator that fills the gap in the range of available handling equipment. The new manipulator simplifies the range of activities and improves working conditions.
The manipulator consists of a column, shoulder and clamping element. The manipulator is controlled by a sensitive handrail, thanks to which the shoulder also describes its finest movements. The operator of the manipulator does not manipulate with any weight.
The arm is equipped with three joints and in the horizontal direction the operator moves the load manually. This design allows quick and ergonomic handling. It also provides an uncovered view of the load.
Due to the special construction of the manipulator it is possible to insert the load into the machine from the side.
Optionally, the jack can be fitted with lockable hinges to ensure complete immobility of the boom, if the operator does not control it.
The lifter is ideal for inserting and unloading lathe parts and milling machines. It is suitable for handling shafts, pallets, coils, rollers, etc.
About Liongrip®, as the manipulator is calling, is a great interest in the market. So far the manipulator has been sold in Sweden, Germany, Finland and Australia.
Ján Plavák
Tel.: +421 37 7777 923
Mobile: +421 903 575 748
Fax: +421 37 7777 928
Email:jpl@bibus.sk