Brazilian WEG is one of the world's leading suppliers of electric motors from more than 50 years of tradition. The production program includes generators, asynchronous, synchronous, inductive and DC motors. Another group is their accessories for simple control and control in the form of frequency converters, soft-starters and relays.
WEG Motor Scan® brings new monitoring functions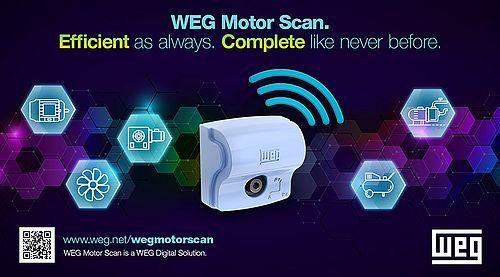 https://www.weg.net/institutional/US/en/news/products-and-solutions/weg-motor-scan-brings-new-features-for-monitoring
The sensor automatically sends information to the cloud, which allows immediate monitoring of the performance of various devices remotely.
WEG Motor Scan® Brings New Features for Monitoring
Always in the field of innovation and technology, WEG brings a new WEG Motor Scan® to its portfolio of solutions for industry 4.0, which extends the performance of the electric motor monitoring sensor to various devices. In addition, it also monitors gearboxes, pumps, compressors and other devices driven by electric motors.
How does WEG Motor Scan® work?
The WEG Motor Scan® sensor reads data from the device, sends it to the cloud via smartphone or Bluetooth® or automatically from the gateway. All information collected is stored in a cloud that allows remote access to ensure process efficiency. The solution, originally developed for the electric motor, now includes additional equipment for measuring vibration and temperature. Another evolution of WEG Motor Scan® for Industry 4.0, which is now even more efficient.
Effective as always. Complete like never before.
One of the main benefits of WEG Motor Scan® is the optimization of predictive maintenance, as it allows the accurate identification of devices that may represent future failures, making the maintenance process faster and more efficient with minimal or no production downtime. Based on the data captured and sent to the cloud, it is possible to make faster and more assertive decisions, which ensure higher efficiency and longevity, and therefore guarantee the integrity of the equipment installed in production
How to shop?
Purchasing this WEG solution is very simple! Go to www.weg.net/wegmotorscan, scroll down to the bottom of the page and select "Yes, I want to buy!". After entering the details, one of our team members will contact you. Fast, easy and hassle-free. More technology and connectivity for an even more efficient Industry 4.0.

More information can be found at www.weg.net/wegmotorscan.
WECM - WEG Electronically commutated motor

Standard features:
Permanent magnet, electronically commutated motor
Single-phase, 220 to 277 VAC, 50/60 Hz input
Output power: 0.12 to 1.1 kW at 1500, 1800 or 3000 rpm
IEC80, aluminum frame, degree of protection IP55
Mounting: legs
Ambient temperature: -20 to 40 ° C (TENV) 1; or -20 to 60 ° C (TEAO) 2;
Total efficiency (motor + drive) - IE53;
Degree of vibration
Direction of rotation CW / CCW (optional)
Continuous speed setting (200 to 1500/1800 rpm and 500 to 3000 rpm) by:
Clock buttons (local)
DC voltage (remote): 2 to 10 VDC
DC current (remote): 4 to 20 mA DC
Frequency (remote): 10 to 95%
Optically isolated local controls
"With drain plug and V seal"
Power and control cables 500 mm long
Electronic protection: overload, excessive temperature and blocked rotor.
Fire mode (overload and maximum speed mode)
Notes:

1. Fully enclosed, unventilated. Power limited to 0.65 kW. Electrical data can be found on WEG.
2. Fully enclosed, air cooled. Minimum air flow through the motor frame and drive cover 5 m / s.
3. Direct method - IE input and output IE levels according to 60034-30-1 and 60034-30-2.
Optional features:
Passive PFC (power cation correction) 4
Pin mounting (4x90 ° or 3x120 °) and FF-165 flange
Closing seal for vertical shaft mounting
115 V power supply (up to 0.55 kW)
Decentralized drive and motor assembly
Adjusted cable lengths
Ends Customized shaft ends
Double shaft ends (only with version with decentralized drive)
External display controller for setting maximum and instantaneous speed values
Notes:

4 - WECM requires the use of an external filter (passive PFC) to meet the harmonic current emission requirements of EN 61000-3-2. See WEG for more details.
Basic range of WEG electric motors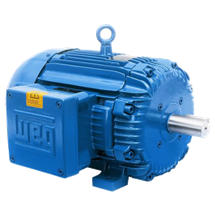 W22 (Cast Iron Engines)
W22X (ATEX Cast Iron Engines)
W22 (high temperature motors up to 400 ° C)
W21 (Aluminum Motors)
WEG W22 industrial motor series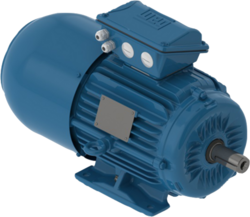 It is produced in energy efficiency class IE2, IE3 and IE4 according to EN60034-30
W22 alternating squirrel-cage electric motor with a power of 0.12 to 500 kW
Body material is cast iron FC-200
IP 55, 65, 66, 67
Heat resistance class B (80 Kelvin) as standard
Voltage range 220V - 690V
For inverter with max. Voltage to 460V, peak to 1600V
Standard color RAL 5009 (blue)
Version with spring-loaded safety brakes
Customization options
ventilation adjustment
temperature sensors PTC, PT100, PT1000, TFO, KTY
special shafts
anticorrosive paints
position sensors
Electric motors for explosive environment W22x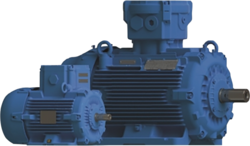 They are available for power ratings of 0.12 to 500 kW in energy efficiency class IE2, IE3 and IE4 according to EN60034-30 and in addition meet these specifications
ATEX and IEX Ex II 2 G Ex d / d IIB / IIC T4 Dc
ATEX, ASEEFA Directive 94/9
Ec I / II 2G Ex d / d IIC T4 Gb
dust: Ex II 2D Ex tb IIIC T125 ° C Ta -55 ° C to + 80 ° C Db IP6X
IECEx gas: Ex d / de IIC T4 Gb; dust: Ex tb IIIC T125 ° C Ta -55 ° C to + 80 ° C Db IP6X
Industrial range of WEG W21 aluminum motors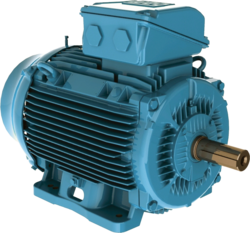 This series of electric motors is in energy efficiency class IE2 and IE3 according to EN60034-30
AC electric motor with a short-circuit armature of 0.12 to 37 kW
Aluminum body with Multimouting system
IP 55, 65, 67
Voltage 220V - 690V, 50-60Hz
Heat resistance class B (80 Kelvin) as standard
For inverter with max. Voltage up to 460 V, peak to 1600 V
Standard color RAL 5009 (blue)
Technical parameters of WEG electric motors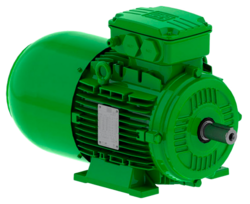 energy efficiency class IE1, IE2, IE3, IE4, IE5
power input 0.12 to 500kW
voltage 220V to 690V
50 to 80Hz
IP55 to IP67
Applications of WEG electric motors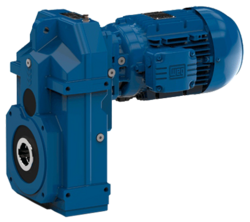 Cooling equipment, fans, compressors
petrochemical priemsel
manufacturing industry
single-purpose machines
machine tools
conveyors, machine lines
handling and palletizing
packaging and filling machines
environmental technologies
crushers, sorters, cranes, presses
knitting and weaving machines
winding and unwinding motors
Customized designs of electric motors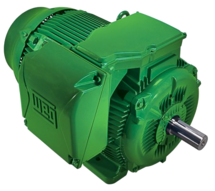 Independent fan (separate cooling)
Additional brake (for vertical applications)
Special Bearings (Electro-erosion Prevention)
Temperature sensorsPTC, PT100, PT1000, TFO, KTY
Special shafts
Gearboxes / transducers (output or speed adjustment)
Patrik Kemlage
Tel.: +421 37 7777 957
Mobile: +421 914 336 528
Fax: +421 37 7777 968
Email:kem@bibus.sk