Hydraulic distributors:
J-Series KSO solenoid control

Max. flow rate 170 l / min
Nominal size NG 6 and NG10
Pressure up to 350 bar

J-series with manual JM

Max. flow rate 30 l / min
Nominal size NG 6
Pressure up to 210 bar
From sections of valves:
J-Series M

Max. flow rate 80 l / min
Nominal size NG6 and NG10
Pressure up to 350 bar
DAIKIN WON DUPLOMATIC MS S.P.A, ITALIAN MANUFACTURER OF COMPLEX HYDRAULIC EQUIPMENT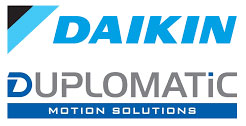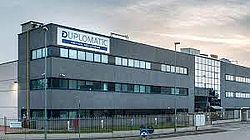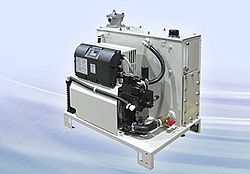 DaikinIndustries, Ltd. recently entered into a share purchase agreement with Duplomatic MS S.p.A ('Duplomatic'), an Italian manufacturer of hydraulic equipment. The acquisition price is 220 million euros (27.5 billion yen at an exchange rate of 1 euro = 125 yen). The acquisition is scheduled for completion in June 2022, when Daikin is expected to acquire all shares from AlcedoSgrS.p.A., An Italian private equity firm, and Duplomatic's management, after completing all necessary acquisitions.
Duplomatic is a manufacturer of hydraulic equipment that specializes in products such as hydraulic valves, pumps and cylinders, and has developed business in a wide range of areas, focusing on areas including industrial machinery and mobile construction equipment.
With a history of more than 70 years since its founding, Duplomatic has production bases in Italy, the United Kingdom, Germany, the United States and other countries. It boasts an extensive product line and robust engineering capabilities and has a strong business base in Europe that provides optimal engineering designs and hydraulic systems to meet the different needs of local customers.
For DaikinIndustries, its hydraulics division is one of the founding business areas for which the company has been in business for more than 90 years. In 2000, Daikin launched engine-driven inverter technology in the field of air conditioning with hydraulic power units with advanced energy-saving performance that overtook the entire industry. Since then, it has expanded its business with a focus on expanding a series of energy-efficient hydraulic equipment and developing applications.
In its FUSION 25 Strategic Management Plan, which focuses on fiscal 2025, Daikin has set a global business expansion for its hydraulics business as part of its core strategy. As carbon neutrality initiatives are on the rise, the trend towards energy savings for production facilities is advancing in Europe, one of the world's leading markets for industrial hydraulic equipment, and Daikin sees this development as an opportunity to expand its business.
Through this acquisition, Daikin intends to achieve energy savings in industrial equipment in Europe by integrating Duplomatic's business base with its own environmental technology specialization in order to reduce the burden on the environment and contribute to a sustainable society.
Peter Lauko
Tel.: +421 37 7777 955
Mobile: +421 903 282 644
Fax: +421 37 7777 967
Email:lp@bibus.sk
Jaroslav Tvrdoň
Tel.: +421 37 7777 954
Mobile: +421 914 336 525
Fax: +421 37 7777 967
Email: tvr@bibus.sk
Vladimír Begáň
Tel.: +421 37 7777 954
Mobile: +421 914 336 527
Fax: +421 37 7777 967
Email:vbe@bibus.sk