ARGO-HYTOS - Increase the protection of the valves in hazardous areas
Valves for hazardous areas are becoming an increasingly important group of Argo-Hytos products in the field of Control and Regulation Technology. We would like to inform you about the Ex-Proof range of coils innovation in:
increasing the degree of water resistance. This is achieved thanks to the construction of the coil, which has a new degree of protection IP 66/68.
it is now possible to use Argo-Hytos Ex coils even in environments where all gas groups are present, even in the environment labeled IIC => the coils are resistant to gases with the highest fluidity (eg acetylene).
A typical field of application for the EX-Proof range is the oil and gas industry.
All DC and AC coils used are IP 66/68 certified and shipped in accordance with the worldwide IECEx and European ATEX certification.
EPS14ATEX1744 X
IECEx EPS14.0064 X
AC
l M2 Ex mb I Mb
Ex mb I Mb
lI 2G Ex mb IIC T4, T5, T6 Gb
Ex mb IIC T4, T5, T6 Gb
lI 2D Ex mb IIIC T135°C, T100°C, T85°C Db
Ex mb IIIC T135°C, T100°C, T85°C Db
DC
l M2 Ex e mb I Mb
Ex e mb I Mb
lI 2G Ex e mb IIC T4, T5, T6 Gb
Ex e mb IIC T4, T5, T6 Gb
lI 2D Ex tb IIIC T135°C, T100°C, T85°C Db
Ex tb IIIC T135°C, T100°C, T85°C Db
At the same time we enclose a modified table of slider interconnections for the RPEX3-06 switchboard - extended by slider interconnection 21

AC coil versions will be shipped until the end of 2020 with IP 65 degree of protection.
Hydraulic Valves Intended for Use in Potentially Explosive Atmospheres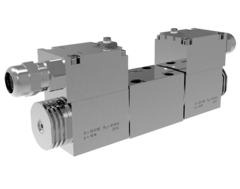 There are potentially explosive mixtures in the form of gas, vapor, mist or dust in various segments of the chemical and petrochemical industries or for example in mines. It is necessary to ensure a high level of protection against explosion on each part of the equipment used in these industries. When using hydraulic elements, a common method is to prevent the accumulation of energy, which would be sufficient for the ignition of an explosive mixture. Specifically it means, that the development of these elements will focus on preventing explosive mixtures from entering a space where they can cause sparks. We used two types of protection on the electrical parts of our valves: Type "Ex e" - increased safety for the connection terminal on DC coils and type "Ex mb" - encapsulation on our AC coils with a rectifier bridge.
It is also important to limit the maximum surface temperature of the individual parts of the valve.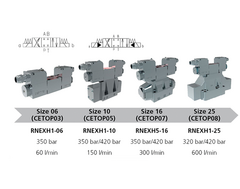 Hydraulic fluids in this of applications usually reach operating temperatures of about 55 °C.
This temperature is much lower than the maximum allowed temperature of the individual parts. Therefore the hydraulic part of the valve cools the whole assembly. The only part on which the surface temperature has to be reduced, is the solenoid. A significant reduction of the surface temperature is achieved by means of a solenoid design that allows better heat radiation from the solenoid to the surroundings and also a reduction of the power consumption of the solenoid.
This reduced power consumption normally results in a lower hydraulic performance of the valve. Therefore, valves designed for explosive environments, typically transmit lower hydraulic power than conventional valves.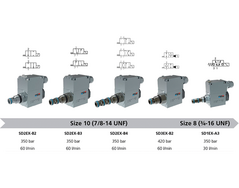 ARGO-HYTOS, being in valves development and production for more than 60 years, has launched a new Directional Modular and Screw-in Valve range on the explosion proof market to overcome this typically low hydraulic power phenomenon.
The new One4All explosion solenoids are designed for all explosion risk areas and temperature classes in combination with modern CFD design methods, resulting in a unique hydraulic power performance of explosion proof valves. We offer two basic ranges of Modular Valves and Screw-in Cartridge versions.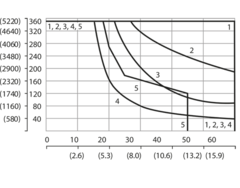 Typical operating limits of size 06, CETOP03 versions. Ambient temperature 70 °C (158 °F), Voltage Un -10 % (24 VDC), Power Pn 10 W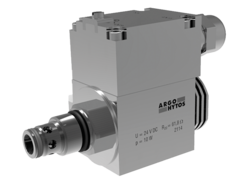 Additionally, our Explosion Proof Valves bear all unique features applied for the standard ARGO-HYTOS valve range as
Robust design for 10 Mio. life cycles, also applied for sealings
Screw-in Cartridge Poppet Valves with 0 drop leaks and a pressure rating of 420 bar
Screw-in Spool Valves with a "tumbling nose" to compensate misalignments of the valve cavity = spool never blocks
High oil / ambient temperatures as standard
Surface protection 500 h ISO 9224 as standard
Special spool versions on request as detent
GOST TR (Russia Federation) Certification for all explosion proof ranges
Bayonet manual override – mining, mechanical impact, proved for all CETOP and SIC
Solenoid interchangeability between CETOP and SIC explosion proof range
More info:
http://www.argo-hytos.com/en/products/explosion-proof-valves.html
Peter Lauko
Tel.: +421 37 7777 955
Mobile: +421 903 282 644
Fax: +421 37 7777 967
Email:lp@bibus.sk
Jaroslav Tvrdoň
Tel.: +421 37 7777 954
Mobile: +421 914 336 525
Fax: +421 37 7777 967
Email: tvr@bibus.sk
Vladimír Begáň
Tel.: +421 37 7777 954
Mobile: +421 914 336 527
Fax: +421 37 7777 967
Email:vbe@bibus.sk