DANFOSS - H1P hydrogenerators for closed hydraulic circuit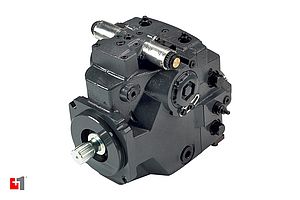 The Danfoss H1P axial piston hydrogenerator with swing plate is part of the Danfoss H1 family of transmitters.
Danfoss is a pioneer not only in the field of axial piston hydrogenerators for the closed circuit, but also for the entire mobile hydraulics industry.
Properties of H1P hydrogenerators
Suitable for all applications: H1P can be used in all closed hydraulic systems. It is suitable for hundreds of applications as an easily integrated package.
Efficiency: An integrated electro-hydraulic servo system controls the size and direction of the flow. This guarantees the lowest control pressure and excellent power density. High efficiency operation reduces overall operating costs.
Optimized profile and design: Built-in filling hydrogenerator (gerotor type) with pressure balanced plates increases the overall efficiency of the hydrogenerator.
Simplified design: Reduced number of parts, such as a one-piece swing plate. This ensures higher reliability and reduced service and repair costs.
Compactness and the "clean" side: The lightweight, compact H1P is designed with one truly clean side - there are no work connections on this surface.
Precise control and reliability: Lower total hydraulic control losses and better control resolution - this leads to optimal, reliable, predictable control of the hydrogenerator, which guarantees safe operation of the machine.
Various geometric volume control options: automatic control (AC), electric proportional feedback control (EDC), hydraulic cooling drive control - propeller drive (FDC), three-position jump control (FNR), mechanical feedback control (MDC), electric proportional control without feedback (NFPE)).
Wide range of geometric volumes: We offer a range of H1P hydrogenerators with a geometric volume from 45 cm3 up to 280 cm3. The H1P is a modular hydrogenerator highly flexible to suit all types of applications.
High working pressure: Highest working pressure drop 480 bar.
Construction: Durable and robust construction meets the requirements of demanding working conditions for applications in construction, forestry and agriculture.
DANFOSS - Series 20 hydrostatic converters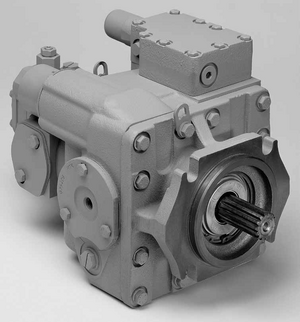 Danfoss Series 20 Hydrogenerators / Hydromotors are available by January 2019.
Over the past 50 years, Danfoss has met the market requirements for the supply of finished products and spare parts for Series 20 converters. Given the continuing declining market interest in these products, Danfoss decided to end the production of Series 20 products by the end of January 2019. This decision was taken from reason:
the decrease in the volume of produced and delivered parts, and also the growing supply constraints on subcontractors. This has led suppliers to tell Danfoss that these parts are no longer available.
lack of alternative supplies due to low demand, high capital investment requirements and supply constraints
From now until the end of January 2019, Danfoss will supply a limited number of Series 20 products. Danfoss will continue to support the 20 Series product market that is in stock. The following plan was defined:
orders will be accepted for some of the Series 20 hydrogenerators that will be manufactured by November 2, 2018. The final delivery of the Series 20 products will take place on January 31, 2019.
Series 20 hydro motors will no longer be produced due to supply constraints. No new orders will be accepted.
orders will be accepted for spare parts and service packs Series 20 until delivery of stock. Once exhausted, these parts will no longer be available.
Axial piston pump closed circuit high pressure
For middle and high drive power
nominal size 78; 115; 130; 147; 165 cm³/U
pressures to 480 bar
broad electrical controller program
For middle and high drive power
nominal size 42 to 250 cm³/U
pressures to 480 bar
manual, hydraulic, electrical controller program
Compact designs offering high power density.
Complete family of manual, electric and hydraulic displacement controls and electrical automotive controls.
Various motor displacements available in SAE flange, cartridge and DIN ISO flange configuration.
Motor ranges with fixed, 2-position and continuously variable displacement controls, including the zero degree option.
Application Opportunities
The high power transmission solutions secure performance reliability in combines, crawlers, forest machinery and rollers.
Peter Lauko
Tel.: +421 37 7777 955
Mobile: +421 903 282 644
Fax: +421 37 7777 967
Email:lp@bibus.sk
Jaroslav Tvrdoň
Tel.: +421 37 7777 954
Mobile: +421 914 336 525
Fax: +421 37 7777 967
Email: tvr@bibus.sk
Vladimír Begáň
Tel.: +421 37 7777 954
Mobile: +421 914 336 527
Fax: +421 37 7777 967
Email:vbe@bibus.sk