Oil coolers and heat exchangers
Cooling of industrial liquids
Fans electrically driven or hydraulic motor
Heat exchangers and industrial coolers
Compensators
Gas heating and ventilation unit.
Continuously modulated burner power. Do not overheat the room above the required temperature. Economical premix burner. High airflow and flow.
SAHARA MAXX HG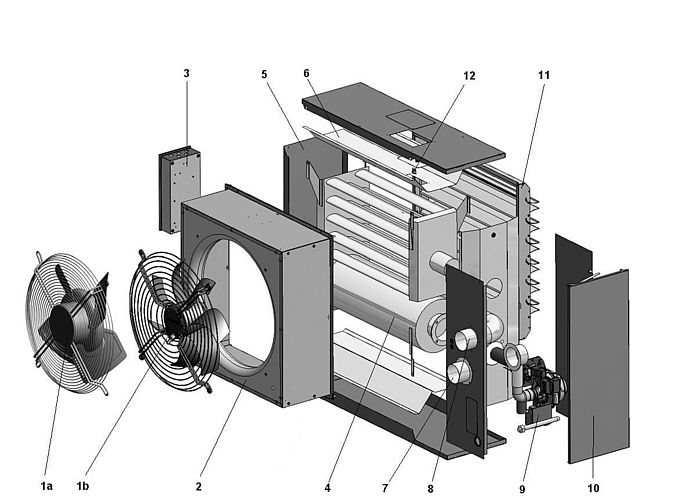 1a: wide blade fan (optional)
1b: Vented blade fan (optional)
2: Ventilation chamber with fan nozzle jacket
3: Electric control glass (steel box)
4: Fe Exchanger
5: Exchanger cover
6: Reflective Sheets
7: Chimney - air intake
8: Chimney - exhaust gas
9: Gas burner
10: Covering the gas burner
11: Exhaust louvre (optional)
12: Thermal fuse
The SAHARA MAXX HG gas heating system is used for heating, ventilating or filtering indoor or outdoor air in industrial, warehouse, sales, exhibition spaces, in an environment protected against weathering (according to ČSN 33 2000-1 ed.2 and ČSN EN 60 721-3-3).
In all environments that require the use of a closed appliance, the units may be equipped with an outside air supply. The coaxial chimney system can be used for the combustion process. In rooms where there is a risk of vacuum, it is imperative to use the unit in the version of the enclosed appliance.
Filters, mixing chambers, hinges and other items on the intake and exhaust side can be ordered as accessories.
Electrical protection IP40 (according to ČSN EN 60 529).
Operating temperature: 0 ° C to + 40 ° C
Heater category: I2R - natural gas (NG), I3R - propane butane (PB), propane (P), butane (B)
Class NOX: 5 (<50mg / kWh), 4 - HG 45 (<80mg / kWh). Flue gas discharge: B23, C53, C13, C33 (according to EN 1020).
Gas burner: fuel inlet pressure: - natural gas 2 ± 0,2 kPa - propane / butane 3 ± 0,3 kPa.
The gas pressure fully automatic burner burner by perfect combustion ensures the heater of the exchanger and can be in natural gas, gaseous propane, butane or propane-butane. The burner allows optimum adjustment of the heating unit's output with respect to the heating requirements.
Operating voltage 1 ~ 230V, 50Hz, control voltage 0 ... 10V.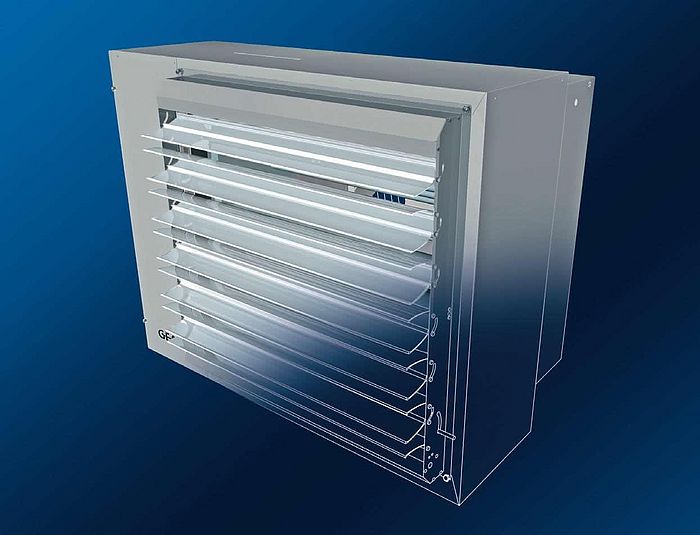 Viliam Moravec
Tel.: +421 37 7777 953
Mobile: +421 903 720 733
Fax: +421 37 7777 968
Email:vmo@bibus.sk
Jaroslav Tvrdoň
Tel.: +421 37 7777 954
Mobile: +421 914 336 525
Fax: +421 37 7777 967
Email: tvr@bibus.sk
Vladimír Begáň
Tel.: +421 37 7777 954
Mobile: +421 914 336 527
Fax: +421 37 7777 967
Email:vbe@bibus.sk