BLACK BRUIN - On-Demand Drive
The popularity of hydraulic wheel motors on trailers - tank trucks, balers and many other types of machines working in forestry, agricultural and construction conditions - is still growing in the world. There is also no doubt about the advantages of trailers with driven wheels. These machines offer better traction, improved steering. Trailers with driven wheels even save fuel.
Black Bruin offers a complete assisted drive system covering hydraulic motors, valves and the control system - CTR201 for tractors and implement with ISOBUS and CTR101 for tractors without ISOBUS. Now the offer is expanded by Hill Descent Control (HDC) for both systems.
The HDC function helps to control the vehicle and increases safety when driving down steep slopes. When the system is in operation, the wheel motors act as hydrostatic brakes. Hydrostatic braking relieves the load on the actual service brakes and extends their maintenance interval. The HDC function helps on steep slopes - when shifting forward and backward.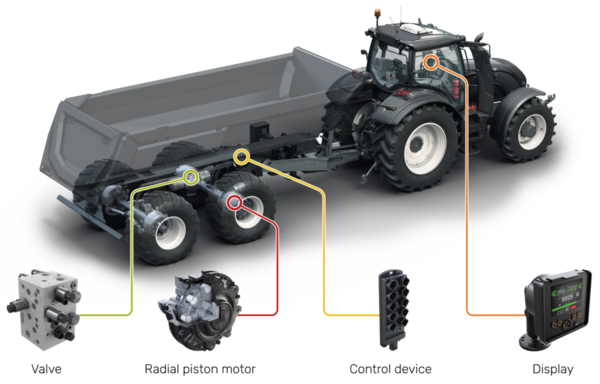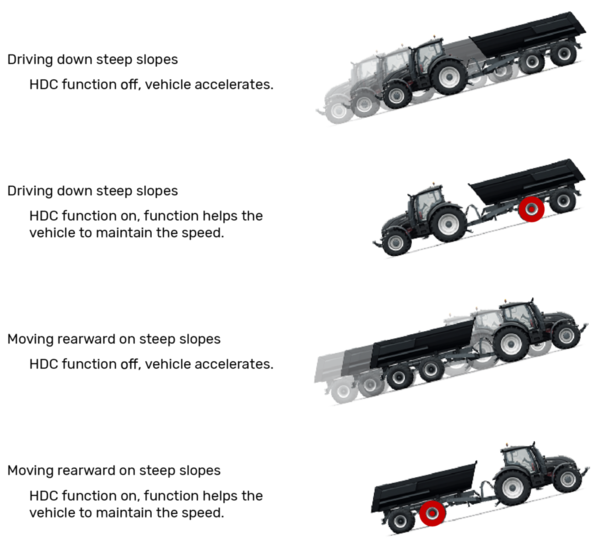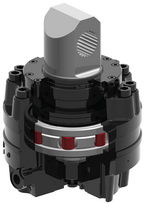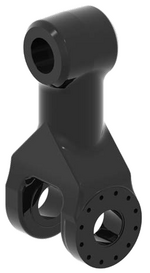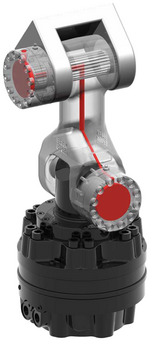 Black Bruin rotators are based on the principle of radial piston hydraulic motors.
A good rotator is easy to use, robust and, above all, resistant to extreme working conditions. The long life of Black Bruin rotators is guaranteed by the design of the radial stroke curve and pistons, which are precisely balanced. This ensures a high and at the same time constant torque throughout the life of the rotator.
Features:
piston design without wear - so no polluting particles get into the system
high constant torque over the entire range
possibility of precise control
robust construction
long service life without torque drop
Black Bruin rotators are designed mainly for harvester heads and enable highly efficient logging. Thanks to their durability, usability, excellent load capacity and high constant torque, they are suitable for extreme working conditions.
Features:
BBR H and RH3016 versions
torque 1600 to 3480 Nm
load 80 to 160kN
Black Bruin offers a complete system, so in addition to rotators, there are also several types of hinges and suspension brakes.
hinges:
light and compact design
various types to use for harvesters
for different brake designs
1J - single brake, lower
2J - double brake, upper and lower
2K - double brake, upper and lower (with the possibility of symmetrical lower brake)
Brakes:
multi-disc brakes of unique design
durable brake discs - constant braking torque
easy serviceable construction
long maintenance interval
versions with spring or hydraulic control
https://www.blackbruin.com/media/black_bruin_rotators_en_d.pdf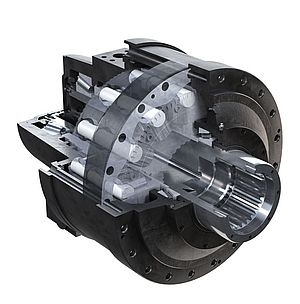 B200 series hydraulic motor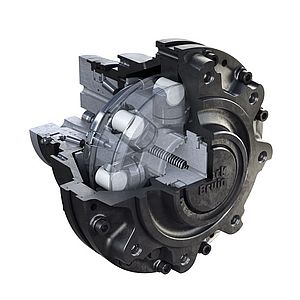 Black Bruin B200 series are radial piston hydraulic motors with external stroke curve and rotating body. They are designed mainly for applications of assisted drive of sidings and trailers - wheel drives. The Black Bruin B200 series wheeled hydraulic motors are designed to be able to generate traction on tractor trailers and work equipment. These hydraulic motors are suitable for agriculture, forestry and earthworks. The non-driven wheel of the trailer causes resistance to movement, but the Black Bruin hydraulic motor transmits the traction force exactly where it is most needed - under load. More traction is generated whenever it's needed (On Demand) and with Black Bruin-powered wheels you can ride even in the worst conditions.
And when the machine is on the road, the hydraulic motors are safely released. Black Bruin hydraulic motors are the right choice for mobile applications, as the freeweeling of the hydraulic motor can be done mechanically - without active hydraulics. Driving on roads without special hydraulics leads to significant savings in the steering system and fuel consumption.
Features:
geometric volume 630 to 6300 cm3; torque 3500 to 45000 Nm
max. working pressure 450 bar
1- or 2-speed design
unique mechanical freewheeling - hydraulic motor disconnection
version with parking brake
well sealed against oil leaks
compact installation
high load capacity

https://www.blackbruin.com/products/hydraulic-motors/b200-series
https://www.blackbruin.com/media/black-bruin-b200-on-demand-wheel-motors-en.pdf
Peter Lauko
Tel.: +421 37 7777 955
Mobile: +421 903 282 644
Fax: +421 37 7777 967
Email:lp@bibus.sk
Jaroslav Tvrdoň
Tel.: +421 37 7777 954
Mobile: +421 914 336 525
Fax: +421 37 7777 967
Email: tvr@bibus.sk
Vladimír Begáň
Tel.: +421 37 7777 954
Mobile: +421 914 336 527
Fax: +421 37 7777 967
Email:vbe@bibus.sk